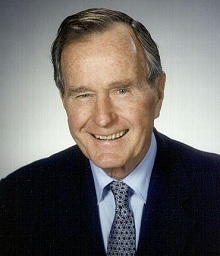 by TRAVIS WALDRON, Think Progress
Grover Norquist, the anti-tax activist who authored a no-new-taxes pledge popular among GOP politicians, has called Republicans who raised taxes "rat heads in a Coke bottle." A former Republican president who raised taxes during his administration, however, is now challenging Republicans to set aside the Norquist pledge.
In an interview with Parade Magazine, George H. W. Bush, who broke his "no new taxes" election pledge, said he didn't like the "rigidity" of pledges like Norquist's. "Who the hell is Grover Norquist, anyway?" Bush added:
PARADE: During your presidency you gave in on your "no new taxes"pledge. You've been vindicated in many respects for that decision. I wonder how you view the "no new tax" pledge from Grover Norquist that seems to be requisite for GOP political candidates.
GB: The rigidity of those pledges is something I don't like. The circumstances change and you can't be wedded to some formula by Grover Norquist. It's—who the hell is Grover Norquist, anyway?
BB: I think he ought to go back to Alaska. [laughs] Don't quote me! [A reference to a comment Mrs. Bush made about Sarah Palin in a 2010 interview, in which she said, "I think she's very happy in Alaska—and I hope she'll stay there."] [Read More.]
Via
Lynda Park