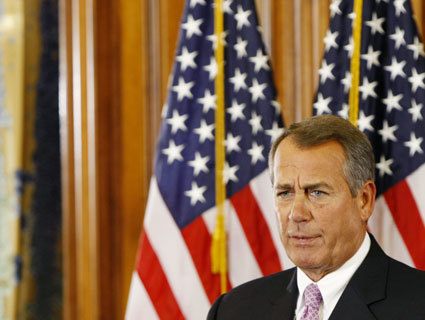 by DAVID CORN, Mother Jones
In the past week or two, there's been crowing on the left about anti-tax crusader Grover Norquist's slipping influence, as a small—emphasis on small—number of congressional Republicans murmur that they might accept a tax/spending deal that includes a hike in rates for the wealthy. For years, Norquist has been the whip of the conservative movement, leaning on GOP candidates and legislators to commit to and stand by a no-tax pledge and acting as prosecutor, judge, and jury whenever any Republican considered any initiative that might possibly be characterized as a tax increase. But as President Barack Obama bargains (toughly) with House Speaker John Boehner as the fiscal cliff (or bump) nears, Norquist, his cachet waning or not, is not Boehner's problem. He is not the force that is preventing the speaker from striking a deal with an electorally energized Obama. The true obstacle is Boehner's own comrades: those scores of tea partiers in the House Republican caucus who detest compromise—especially with the president. As Boehner tries to forge an accord with Obama, he has to watch carefully his colleagues and his back.
This has been the challenge for Boehner for the past two years. There's not much doubt that in the summer of 2011 he sincerely desired attaining the so-called grand bargain Obama offered: spending cuts and Medicare and Medicaid reductions (that were harder on providers than beneficiaries) in return for greater tax revenues squeezed from the wealthy and corporations and a hike in the debt ceiling. And Boehner presumably would fancy producing such a mighty deal now. But two summers ago Boehner was warned by moderate Republicans in his caucus that if he accepted anything resembling the package Obama was offering he would face a rebellion, perhaps a mutiny, within his own caucus that might be led by House Majority Leader Eric Cantor. That could have led to his demise as speaker.
This basic dynamic—Boehner cannot haggle freely with the president due to the intense opposition to a deal within his own ranks—has not fundamentally changed. What has changed is the president's hand. According to senior administration officials, Obama is not eager to go over the cliff, but he is willing. If no deal is reached by the end of the month, all the Bush tax cuts—for the rich and not rich—will evaporate. Obama would then demand in early January that the new Congress immediately pass legislation to reinstate the lower tax rates for the bottom 98 percent. Boehner and the Republicans presumably will find it difficult to say no and insist they will only vote for such tax relief if it includes breaks for the wealthy or cuts in Medicare and other government spending. As a Democratic strategist close to the White House says, "For years we've tried to make the case that the Republicans are willing to hold up tax cuts for 98 percent to help the guys at the top. This is the cleanest shot we've gotten at this." [MORE]
Via
John Cashon