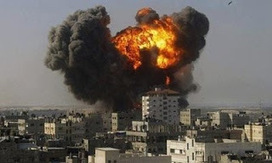 UPDATES:
SPECIAL COVERAGE:
Day 4
Nov. 17, 2012
14:20 Witness says Israeli forces are firing at protesters outside Ofer prison in the West Bank.
14:16 Airstrikes reported in Gaza City.
13:45 Muhammad Yasin dies of wounds sustained Saturday in Gaza City's Zaytoun neighborhood, raising the death toll to 40 since Wednesday.
13:33 Israeli army says four 4 rockets fired from Gaza strike Ashdod, hitting a house, school, car and open area.
13:34 Protests continue around the world for the third day. Click here to see if one is happening near you.
13:15 Clashes at Huwwara checkpoint south of Nablus, 7 detained.
12:52 The Israeli military is rushing a fifth Iron Dome anti-missile battery into service and deploying it in the Tel Aviv area, underscoring concerns over the range of Palestinian rockets.
12:44 A Ma'an correspondent identifies the three Palestinians killed in al-Maghazi refugee camp as members of Hamas' armed wing, the al-Qassam Brigades.
11:57 Missile hits home in Rafah, injuring five Palestinians.
11:55 Six names added to Ma'an's list of confirmed deaths in Gaza, raising the total to 39.
11:45 Channel 2: Israeli forces begin artillery strikes on Gaza.
11:21 Tunisian Foreign Minister Rafik Abdesslem, in Gaza, denounces Israel's attacks on the Palestinian enclave as unacceptable and against international law: "Israel should understand that many things have changed and that lots of water has run in the Arab river," Abdesslem says in Gaza City.
11:13 Palestinian resistance factions confirm that their fighters continue to launch missiles toward Israeli towns and military sites bordering the Gaza Strip.
10:33 Israel says three soldiers were injured by a rocket fired from the Gaza Strip.
10:23 Islamic Jihad says Ayman Salim, who succumbed to previous injuries early Saturday, was a prominent member of its armed wing.
10:03 The foreign minister of Tunisia arrives at Rafah.
09:24 Here is a continuously updated list of confirmed Palestinian deaths in the Gaza Strip since Wednesday. Death toll is now 31.
09:17 A Palestinian woman and her child are injured in an airstrike in Deir al-Balah.
08:31 Israeli army says overnight attacks targeted "several rocket launching squads", government buildings, the prime minister's headquarters, the ministry of interior and a police compound as well as a "Hamas training facility" in northern Gaza.
08:09 Medics say the death toll since Wednesday is 38 after Israel's overnight airstrikes across the Gaza Strip.
08:06 National and Islamic factions and workers unions say they are planning to hold a demonstration at noon in Yasser Arafat's square in Ramallah.
07:30 Medics say three Palestinians injured in airstrike on Rafah.
06:50 Thirty people are injured after an Israeli airstrike on a house in Jabaliya.
06:20 Israeli warplanes attack the headquarters of the government in Gaza.
06:17 In a New York Times op-ed, Israeli peace activist Gershon Baskin argues that Israel's assassination of Ahmad al-Jaabari removed one of the more practical actors on the Hamas side.
05:55 Two injured Palestinians have been moved to a hospital in the Sinai.
05:10 An Israeli army spokesman confirms reports of air attacks and says operations are ongoing in the north and south of Gaza.
04:35 Reports of airstrikes in the Rafah tunnel area between Egypt and Gaza.
MASSIVE EXPLOSIONS SHAKES MY HOUS IN #Rafah now #GazaUnderAttack
— omar jouda (@Ojouda) November 17, 2012
04:01: A US-based Palestinian non-profit group posted a collection of first-person accounts about the situation on the ground in the Gaza Strip.
04:00 Massive explosion reported in Gaza City. A huge earth shaking explosion is being reported in #Gaza right NOW
— Nader Elkhuzundar (@imNadZ) November 17, 2012
03:34 More details about the killing of a suspected spy in Gaza City.
03:26 Israeli officials are preparing the ground for a possible Gaza invasion after rockets hit major Israeli cities for the first time in decades.
2:39 More on the call with Mursi: Obama commended Egypt's efforts to help calm the situation in Israel and Gaza and underscored his hope of restoring stability.
02:17 More reports of airstrikes in the Gaza Strip. A large explosion just shook windows and rattled doors at the southern end of the #Gaza Seaport. #GazaUnderAttack
— Joe Catron (@jncatron) November 17, 2012
02:15 Desmond Tutu: "This new outbreak of violence is heartbreaking – and all too familiar. Once again the people are paying an unacceptable price and innocent civilians in Gaza and Israel, including children, are losing their lives. There will be no peace for Israelis and Palestinians if the cycle of violence continues."
02:03 White House: Obama also spoke to Egyptian President Muhammad Mursi and the two agreed to stay in close contact during the coming days.
01:55 US President Barack Obama has reiterated his support for Israel's right to defend itself in a phone call with Israeli Prime Minister Benjamin Netanyahu, the White House says: Obama "reiterated US support for Israel's right to defend itself, and expressed regret over the loss of Israeli and Palestinian civilian lives".
01:54 Reports of heavy drone activity over Gaza City.
Richard Engel
✔
@RichardEngel
So many drones over #Gaza city it sounds like everyone is out mowing their lawns in the dark
17 Nov 12 ReplyRetweetFavorite
01:13 Senior Hamas leader Mousa Abu Marzouk does not expect a ceasefire soon: "There are many calls for truce but it will not be soon," he tells Ma'an.
01:02 Who started this, anyway? Robert Wright looks at the timeline.
00:57 Reports that the hacker group Anonymous has disabled more Israeli websites.
Ans Red@AnsRed
mashav.mfa.gov.il & sharonet.co.il & bankjerusalem.co.il DONE HACKED BY @AnonymousPress #OpIsrael #GazaUnderAttack
17 Nov 12 ReplyRetweetFavorite
00:39 The Israeli military says it is unaware of reports from Egyptian security officials that militant groups in the Sinai launched three rockets toward southern Israel.
00:21 The United States has not been in touch with the Palestinian Authority since Wednesday, a State Department spokeswoman says. Meanwhile, US Secretary of State Hillary Clinton has spoken to the foreign ministers of Israel, Egypt, Jordan and Turkey. "In all cases, her message has been the same, that we are urging a de-escalation of this conflict."
00:03 New explosions heard in Gaza City. 12:03am huge explosion just heard in #gaza city