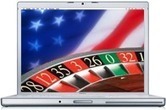 Despite several years of government efforts to prosecute operators and payment processors, online poker and casino gambling continues to thrive in the US.
Robert Stern, PokerSites Communications Director, said, "We are seeing more and more people realizing that online gambling is here to stay and are more comfortable accessing online poker now that that US states are legislating to clear up any gray areas."
Millions of Americans are still gambling online and are spending upwards of $4bn a year on the sites that will still accept them. Internationally, internet gambling accounted for $32.8bn in revenue in 2011.
Over the next five years, social gaming on smartphones and tablets is projected to generate around $100bn in revenue.
These developments have started to have an effect on state legislators, who are eager to cash in on potential revenues. This has gathered pace since the December 2011 federal ruling that stated that online poker and other skill-based games were not considered illegal as long as they were specifically legalized state by state.
"Now that one of the most high profile prosecutions has been settled, with Full Tilt Poker and PokerStars agreeing to pay $731 million in consumer compensation, we expect to see increased interest in online poker as more US players test the waters," added Stern.