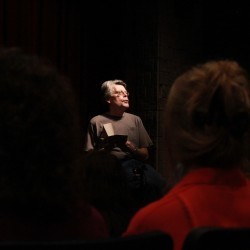 SUSSEX, New Brunswick — A small group of Sussex high school students got the writing critique of a lifetime Friday morning when literary horror-master Stephen King made a surprise visit to their school.
King, the renowned author of books such as "The Stand," "The Shining," "The Dark Tower" series, "The Green Mile" and the recent JFK book "11/22/63: A Novel," gathered with 18 lucky students in the school's library to provide feedback on their work.
"I thought it was absolutely insane that he was actually at our school," said Matthew Beyer, a 12th-grade student who shook King's hand.
"It was quite a shock. We just walked into the library and Stephen King is standing there."
King then spoke to about 80 other students in the auditorium where he told them about his short time as a high school teacher and about how he dreams up the ideas for his novels.
King was at the school after a yearlong campaign to get the author, who lives in Bangor, Maine, to visit the school by Halloween 2012.
Via
Gerard Beirne