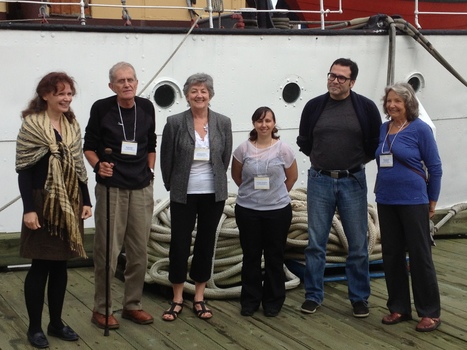 Sasha Dence from Fredericton wins 1st place in The H.R. (Bill) Percy Prize (novel catagory) judged by Valerie Compton - pictured above at the award cermony at the Halifax Word on the Street Festival.
Past winners of the AWC include Scott Fotheringham, who saw his 2009 first-place winning novel manuscript, The Rest is Silence, published by Goose Lane Editions this spring, Ami McKay (honourable mention, novel category, 2004) and Anne Simpson (2nd, poetry category, 1996).
Photo: The 1st place 35th WFNS Atlantic Writing Competition Winners. From left to right: Sasha Dence, Roger Field, Patsy Clothier, Crystal Vaughan, Richard Levangie, and Ruth Morris Schneider.
Via
Gerard Beirne