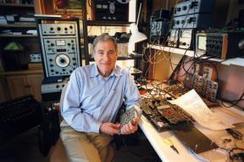 Dolby Laboratories founder Dr. Ray Dolby died Sept. 12 at his home in San Francisco at age 80.
In 1965, Dolby founded Dolby Laboratories, whose major accomplishments include the development of noise-reduction and surround-sound technologies. He held more than 50 U.S. patents.
"Tens of thousands of films and billions of products and devices with Dolby technologies have made their way to theaters, homes and consumers' hands around the world," the company said.
Dolby Laboratories has also won 10 Academy Awards and 13 Emmy Awards for its technologies, which are "an essential part of the creative process for recording artists and filmmakers," the company said....
Son Tom Dolby, a filmmaker and novelist, said that although his father "was an engineer at heart, my father's achievements in technology grew out of a love of music and the arts. He brought his appreciation of the artistic process to all of his work in film and audio recording."