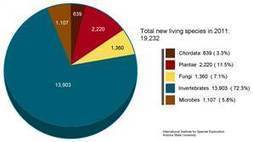 Remi Melina: An annual inventory of newly discovered species lists more than 19,000 – half of them insects. A total of 9,738 insect species were first identified in 2009, the most recent year of data compilation.
After insects, the largest group of new living species was vascular plants, totaling 2,184. Newly discovered arachnids, a group that includes spiders and mites, numbered 1,487.
Forty-one of the listed species were mammals, and seven were birds. There were also 1,360 newly identified species of fungi and 1,107 new microbes.