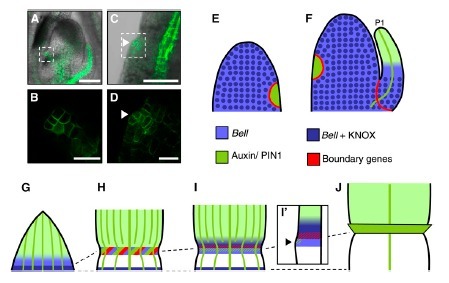 Leaf development is such a fascinating topic, because it reveals the molecular processes the are involved in pattern formation. Interestingly, several genes and small molecules (e.g., auxin) are used repeatedly during the initiation and elaboration of leaves. A pair of papers out in Plant Cell highlights this thrifty genetic strategy.
In the first, we see how the development of the ligule in a maize leaf involves the redeployment of several genes that are involved in leaf initiation, a process that occurs much earlier in the developmental pathway.


Transcriptomic Analyses Indicate That Maize Ligule Development Recapitulates Gene Expression Patterns That Occur during Lateral Organ Initiation (www.plantcell.org/…/early/2014/12/16/tpc.114.132688.abstract).
In the second, we see the KNOX1 / GA module that is so important in leaf developmental patterning also contributes to the environtmental responsiveness of leaf shape (heterophylly), as found in aquatic plants such as Rorippa aquatica.
Regulation of the KNOX-GA Gene Module Induces Heterophyllic Alteration in North American Lake Cress (http://www.plantcell.org/…/20…/12/16/tpc.114.130229.abstract).
These studies also reinforce our understanding of process of evolution; why start from scratch when you can just tweak something that aleady works in another context?
Via
Mary Williams
,
Christophe Jacquet