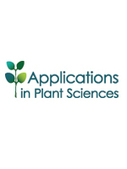 Premise of the study: Single-nucleotide polymorphism (SNP) marker discovery in plants with complex allotetraploid genomes is often confounded by the presence of homeologous loci (along with paralogous and orthologous loci). Here we present a strategy to filter for SNPs representing orthologous loci.
Methods and Results: Using Illumina next-generation sequencing, 54 million reads were collected from restriction enzyme–digested DNA libraries of a diversity of Gossypium taxa. Loci with one to three SNPs were discovered using the Stacks software package, yielding 25,529 new cotton SNP combinations, including those that are polymorphic at both interspecific and intraspecific levels. Frequencies of predicted dual-homozygous (aa/bb) marker polymorphisms ranged from 6.7–11.6% of total shared fragments in intraspecific comparisons and from 15.0–16.4% in interspecific comparisons.
Conclusions: This resource provides dual-homozygous (aa/bb) marker polymorphisms. Both in silico and experimental validation efforts demonstrated that these markers are enriched for single orthologous loci that are homozygous for alternative alleles.