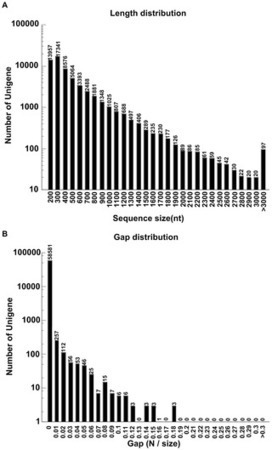 Background
Hypericum perforatum L. (St. John's wort) is a medicinal plant with pharmacological properties that are antidepressant, anti-inflammatory, antiviral, anti-cancer, and antibacterial. Its major active metabolites are hypericins, hyperforins, and melatonin. However, little genetic information is available for this species, especially that concerning the biosynthetic pathways for active ingredients.
Methodology/Principal Findings
Using de novo transcriptome analysis, we obtained 59,184 unigenes covering the entire life cycle of these plants. In all, 40,813 unigenes (68.86%) were annotated and 2,359 were assigned to secondary metabolic pathways. Among them, 260 unigenes are involved in the production of hypericin, hyperforin, and melatonin. Another 2,291 unigenes are classified as potential Type III polyketide synthase. Our BlastX search against the AGRIS database reveals 1,772 unigenes that are homologous to 47 known Arabidopsis transcription factor families. Further analysis shows that 10.61% (6,277) of these unigenes contain 7,643 SSRs.
Conclusion
We have identified a set of putative genes involved in several secondary metabolism pathways, especially those related to the synthesis of its active ingredients. Our results will serve as an important platform for public information about gene expression, genomics, and functional genomics in H. perforatum.