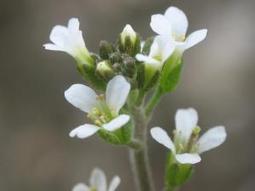 Scientists from the College of Life Sciences at the University of Dundee and the James Hutton Institute have teamed up with researchers in the USA to use a new technique to sequence the genes of the plant Arabidopsis. This approach, which allows researchers to see exactly where a plant's genes end, could be applied to crops in the hope of boosting efforts to breed new varieties.
The Biotechnology and Biological Sciences Research Council (BBSRC)-funded team are the first in the world to try to understand how plant genes are organised by directly sequencing a molecule called RNA rather than DNA. Their findings are published in the journal Nature Structural & Molecular Biology.
The research involved collaboration between a team of biologists led by Dr Gordon Simpson of the Division of Plant Sciences at the University of Dundee, computational scientists led by Prof Geoff Barton at the Colle ge of Life Sciences and a technology group from Helicos Biosciences in the USA.