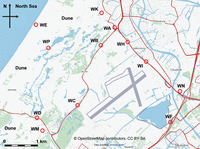 Background and Aims Transgene introgression from crops into wild relatives may increase the resistance of wild plants to herbicides, insects, etc. The chance of transgene introgression depends not only on the rate of hybridization and the establishment of hybrids in local wild populations, but also on the metapopulation dynamics of the wild relative. The aim of the study was to estimate gene flow in a metapopulation for assessing and managing the risks of transgene introgression.
Methods Wild carrots (Daucus carota) were sampled from 12 patches in a metapopulation. Eleven microsatellites were used to genotype wild carrots. Genetic structure was estimated based on the FST statistic. Contemporary (over the last several generations) and historical (over many generations) gene flow was estimated with assignment and coalescent methods, respectively.
Key Results The genetic structure in the wild carrot metapopulation was moderate (FST = 0·082) and most of the genetic variation resided within patches. A pattern of isolation by distance was detected, suggesting that most of the gene flow occurred between neighbouring patches (≤1 km). The mean contemporary gene flow was 5 times higher than the historical estimate, and the correlation between them was very low. Moreover, the contemporary gene flow in roadsides was twice that in a nature reserve, and the correlation between contemporary and historical estimates was much higher in the nature reserve. Mowing of roadsides may contribute to the increase in contemporary gene flow. Simulations demonstrated that the higher contemporary gene flow could accelerate the process of transgene introgression in the metapopulation.
Conclusions Human disturbance such as mowing may alter gene flow patterns in wild populations, affecting the metapopulation dynamics of wild plants and the processes of transgene introgression in the metapopulation. The risk assessment and management of transgene introgression and the control of weeds need to take metapopulation dynamics into consideration.
Via
Jennifer Mach