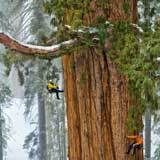 You've got to look closely to see the tiny people that give away the immense size of these trees. The horizontal branch is about the same size as a "normal" tree. I get tingles looking at this photo - what a tree!
Here's a free ebook about history and natural history of Sequoia and King's Canyon National Parks, from the US National Park Service: http://www.cr.nps.gov/history/online_books/dilsaver-tweed/index.htm.
I extend back my thanks to the 19th century conservationists who made sure these trees were protected. I wish we were doing a better job today - I'm not sure our grandchildren will have much to thank us for!