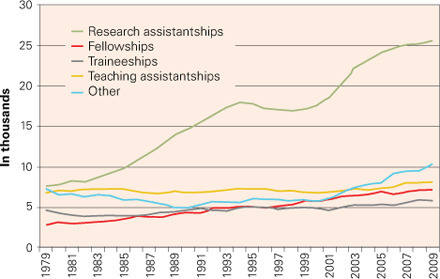 This one requires a subscription, but it's worth the effort to get it.
A National Institute of Health (NIH) advisory committee looks at the plight of PhD students, because "the supply of new Ph.D. students each year far exceeds the number of new academic positions".
They recommend that more students be funded through fellowships (to the student) or institutional training grants, rather than through grants to their PI; the vast increase in number of PhD studentships over the past 25 years is attributable to an increase in positions funded via PI grants. They say that "students funded through research assistantships run the risk of being treated as a source of labor rather than as scientists in training".
This change would allow funding agencies to demand that the PhD training include career guidance for jobs outside of academia. The report also suggest that universities support more staff scientist positions, which would ensure that research goes on without endlessly training new students for whom there are no jobs.