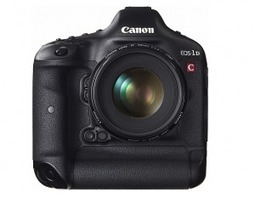 Two new Canon cameras capture "4K" video — 4096 by 2160 resolution motion imagery that is "emerging as the new standard for advanced effects and post-production in Hollywood," Canon says. "It is particularly important for big-budget motion pictures that include scenes compositing live-action cinematography with high-resolution computer-generated imagery."

The EOS-1D C is an SLR camera providing video recording at 4K, as well as Full HD video, and 18-megapixel stills, using a full-frame 24 by 36mm CMOS sensor. 4K video is captured by an approximately APS-H-sized portion of the full image sensor.

The camera records 8-bit 4:2:2 Motion JPEG 4K video to dual CF cards. It has an expanded sensitivity range up to ISO 25600 "for exceptional motion-imaging results with reduced noise even in low-light settings."

Also, Canon says its Log Gamma enables high-quality video "with rich gradation expression, making possible the type of impressive image quality required in motion pictures by maximizing both highlight and shadow detail retention while also providing a high level of color-grading freedom."
The 1D C has a headphone jack for audio monitoring, and will be available this year for $15,000.