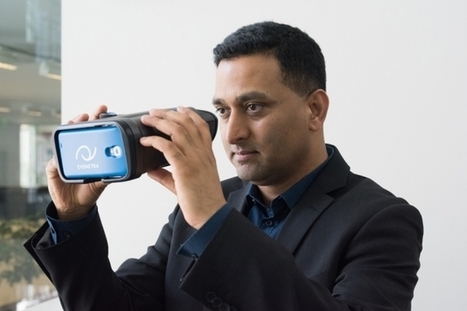 After five years of development and about 40,000 tests worldwide, the smartphone-powered eye-test devices developed by MIT spinout EyeNetra is coming to hospitals, optometric clinics, optical stores, and even homes nationwide.
But on the heels of its commercial release, EyeNetra says it's been pursuing opportunities to collaborate with virtual-reality companies seeking to use the technology to develop "vision-corrected" virtual-reality displays.
"As much as we want to solve the prescription glasses market, we could also [help] bring virtual reality to the masses," says EyeNetra co-founder Ramesh Raskar, an associate professor of media arts and sciences at the MIT Media Lab who co-invented the device.
The device, called Netra, is a plastic, binocular-like headset. Users attach a smartphone, with the startup's app, to the front and peer through the headset at the phone's display. Patterns, such as separate red and green lines or circles, appear on the screen. The user turns a dial to align the patterns and pushes a button to lock them in place. After eight interactions, the app calculates the difference between what the user sees as "aligned" and the actual alignment of the patterns. This signals any refractive errors, such as nearsightedness, farsightedness, and astigmatism. The app then displays the refractive powers, axis of astigmatism, and pupillary distance required for eyeglasses prescriptions.
In April, the startup launched Blink, an on-demand refractive test service in New York, where employees bring the startup's optometry tools, including the Netra device, to people's homes and offices. In India, EyeNetra has launched Nayantara, a similar program to provide low-cost eye tests to the poor and uninsured in remote villages, far from eye doctors. Both efforts used EyeNetra's suite of tools, now available for eye-care providers worldwide.
According to the World Health Organization, uncorrected refractive errors are the world's second-highest cause of blindness. EyeNetra originally invented the device for the developing world — specifically, for poor and remote regions of Africa and Asia, where many people can't find health care easily. India alone has around 300 million people in need of eyeglasses.