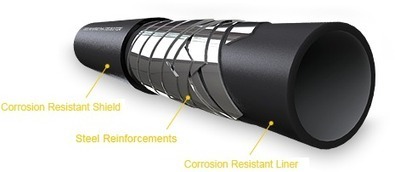 Flexsteel is a good compromise between steel lines, and PE reinforced technologies, allowing fast installation at competitive costs.
This solution is API 17J certified (API standard for flexible pipes), ISO 13628-2 and 11 (ISO standard for flexible pipes).
The potential applications:
- Transport of Corrosive fluids (gas, CO2, H2S, oil with high BSW, water injection lines)
- Pressure up to 3000psi
- Diameter from 2 to 8 inches
- Onshore and Offshore
- Temperatures from -40°C to +60°C (standard product). Higher temperature are available on request.