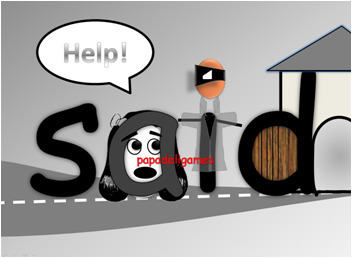 I teach vocabulary visually by drawing a verb or word but it ´s always a part of a story. A is usually a girl called Anne. I is sometimes a thief who wears transparent clothes. This is because he doesn ´t want to be seen, discovered, get caught. So, he doesn ´t speak. He ´s silent. He ´s not pronounced at all.
In this story, letter I had caught Anne and tried to get her in letter D, which is actually an open door. At that time, Anne was afraid. She was forced by the thief to get in the grey, dark house, through that door. So, she said HELP!
In this way Ss remember meaning, spelling and pronunciation at the same time. They also have a great time. The top secret is that there are 4 stages in this procedure .
1. They listen to the story while looking at the drawing
2. They have to repeat the story. We remember more when we say it. That ´s why teaching is the best way of learning.
3. They draw the story the way I do. Same characters, tricks.
4. They write the word. Then they have to find their mistakes on their own. But I have to say that they rarely make mistakes.
P.S. Don ´t worry about Anne. She was saved by her best friend..
Greetings from Greece,