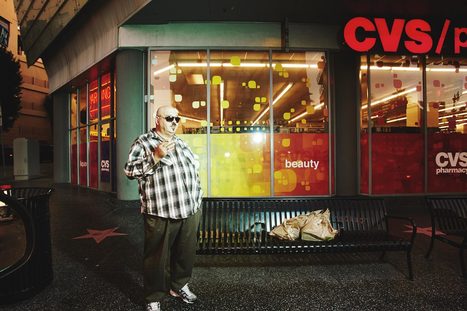 Out of all the clever photo hacks we've seen, this one may be the most creative. Johnny Tergo, a Los Angeles photographer, has built an over-the-top camera and lighting setup in his Chevy Silverado that he uses to take studio-quality portraits of pedestrians.
The photos document moments that can't be shot any other way. Try lugging studio lights down the street and capturing the same scenes. Tergo, 35, says he commutes a lot as a freelancer he wanted to exploit his time behind the wheel.
"What I've tried to do is bring the studio lighting aspect to everyday real life on the streets," he says.
Inside the truck on the passenger side, Tergo bolted a platform that holds a Canon 1D Mark IV with a 16-35 mm lens, a computer, an iPad mini and a studio light. Outside near the tailgate he's attached a second studio light and reflector to a boom that extends 10 feet above the ground. Two gas generators in the bed of the truck pump out 4,000 watts for the lights, including a third that's rigged under the bumper (photos of his setup are included at the end of the gallery).
As Tergo drives in neighborhoods with high foot traffic, he sets his exposure using an app called Capture Pilot on the iPad mini. He also adjusts the strobes for the ambient light using the strobe controls positioned in the cab. When he spots a subject, he drives around the block while he frames up the shot.
He's learned a few tricks to get the best results. He leads moving subjects by pulling forward slightly, waiting for them to enter the frame. He's also not above honking the horn and pretending to be angry with another driver to get people to look toward the camera.
The whole apparatus is triggered with a PocketWizard. Images are sent to Tergo's dash-mounted iPhone via on-board wifi so he can review them. If he likes the photo he moves on. If not he tries to get another frame off before the subject figures out what's going on. He says on a normal day he takes between 40 and 50 pictures with about five that are actually usable.
Some people are not so stoked to get their photo taken without consent. Tergo says there's been a lot of yelling.
"A lot of people think I'm up to something nefarious," he says. "But there have also been a couple times where someone has been really cool and I've pulled over and explained what I was doing."
Tergo wants to add a second truck and more lights to the mix. Ideally, he'd have the extra truck pull up somewhere off to the side or behind the subject so it could uses it's flashes as a rim light, which would help define the body of the person in the frame.
"I enjoy the rigging as much as the image making and anything that I find that will take it to the next level, I add it," he says. "I don't want to stop with good enough, I want it to be awesome."