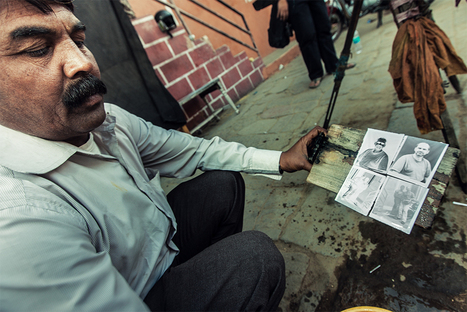 Awalk along the salmon coloured streets, next to the Hava Mahal in Jaipur, amidst handcrafted kathputlies, unattended life sized kites, a shop selling churan and itar, takes you to an 1860 Carl Zeiss camera, "the only kind left in the world", standing neglected. A lens to capture the present, perched atop a rickety looking, yet stable, wooden tripod with an in built dark room attached at the back, covered in tattered black leather.
Surendar, and his brother Tikam Chand have spent an entire life time, trying to popularise this manual 'one minute' camera which was handed down to them from their grandfather who they refer to as Pahari Master.


"He was the royal Photographer for the Maharaja of Jaipur, and after the princely state dissolved, this 150 year old camera has become more of a tourist attraction", says Tikam Chand. He shows us a laminated photograph in which he is taking a photograph of the family in the movie Bhulbulaiya, with the very same camera. "I made an appearance in the movie with the very same camera! But I also have a Leica at home which we seldom use because its lens is more precious."
He asks one of us to sit on the bench placed before the camera while he adjusts the focus by sliding the lens back and forth with his right hand inside the wooden box. We wait for him anxiously, to press a button or pull some antique knob, to indicate the fall of the shutter. Instead, he simply removes the lens cap for a fraction of a second and shouts out, "ready!" and then shuts it after almost a second to allow ample light to hit the lens. The aperture which is adjusted with the brass bracket around the lens is from 4.5mm to 32mm. The intriguing part about this process starts only after the negative is produced.
The negative is then put into a bucket of water to remove the chemicals. "We first get the negative, and then we place it at the determined focal length in front of the lens and take another picture of this negative to get a positive image", says Chand.
Chand also does sepia effects, but they take over three days to make. "We use potassium cyanide to make alterations on the pictures. For sepia we mix black salt and cyanide, and leave it for three days so that the positive will be almost black after some time and then automatically turn to sepia", explains Chand. He looks at expensive digitals cameras, which are busy clicking away different angles of his living, and seems amused. "Photography is only digital now, which is very upsetting because these cameras are being neglected. No other camera can ever produce the kind of picture that this can", he adds.
We were asked to keep our black and white Polaroid covered for half an hour before removing them from the newspaper that enveloped them while Surender begins to explain how exhaustive it has become for the duo to find the right paper and chemicals to keep street photography alive. "During the time of my grandfather we used to get Gavit paper which started in 1860 itself, then came Indupaper, and after that Noa lustre. Even now we continue to use Noa but do not get it here in Jaipur. Our sole supplier from Delhi has also stopped stocking this paper." says Chand.
The scarcity of these resources has led the brothers to charge Rs 150 for a Polaroid. "We have raised our price over ten times in the past three years, because we do not know for how long we will be able to keep up", says Surendar.