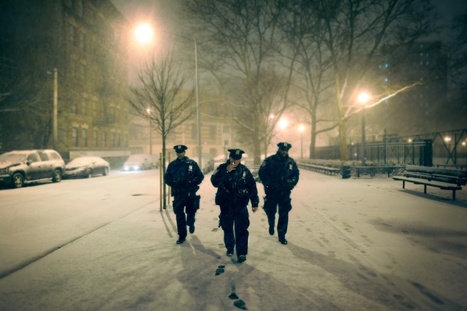 Antonio Bolfo worked as a police officer in the NYPD from 2006 to 2008 where he patrolled some of the most dangerous housing projects in the Bronx. Bolfo says, "There was a substantial amount of depression in the unit and at the precinct in general, but no one would ever admit it out of fear it would be taken as a sign of weakness. People deal with depression in a number of ways, some take to alcohol, others to infidelity. For me it was photography that helped ease the burden." Bolfo's series, IMPACT: Life On The Housing Beat opens tomorrow, July 24, at the Half King gallery in NY. The photographer Antonio Bolfo will participate in an opening night discussion with Ed Conlon, former NYPD detective and author of Blue Blood.
Operation IMPACT is an NYPD program that assigns young, untested officers to the most violent and dangerous neighborhoods of New York City for a full-scale plunge into "The Job." Part field training, part trial by fire, IMPACT pits these officers against some of the most vicious criminals in the country on a daily basis. This photography project follows one IMPACT unit consisting of thirty rookies assigned to housing projects in the South Bronx, one of the poorest and toughest neighborhoods in America.
Many criminologists directly attribute Operation IMPACT to New York City's 21st century revival. But the focus on arrests comes at a price: sacrificing community policing, which leads to a tense relationship between the neighborhood's beleaguered residents and the overstrained cops.