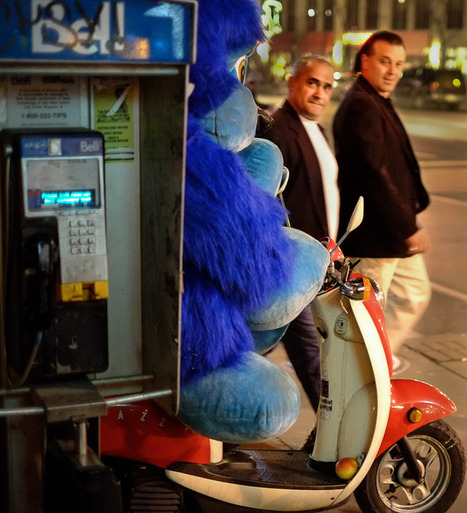 "The story doesn't end there, however. The X-Pro1 is not simply an autofocus, EVF-equipped, Leica-wanna-be. As is now well known, the X-Pro1 has a hybrid viewfinder, which allows one to go from looking at the world through a glass window, to watching television live off the sensor on a small screen which appears in the viewfinder. This feature has its virtues for rangefinder-emulation, but it hints at a much more profound duality. The realization of this came to me as I was contemplated Fuji's lens roadmap for the X-Pro System. Being launched with a classic 28-50-90 lens line-up obviously evoked the rangefinder gestalt Fuji was aiming at.
The roadmap, however, features both 12-24 and 70-200 zoom lenses, slated for release in 2012-2013. These are lenses which will really only work with the EVF (electronic viewfinder) because (a) the fields of view offered are both wider and narrower than what the optical window can show and (b) it seems unlikely Fuji would be able to create real-time zooming framelines.
These lenses will be an awesome addition to the system, vastly expanding its utility. With them mounted, however, the X-Pro1 will lose most of its RF ethos. In reality, it will become a much better looking version of the Sony NEX-5. In other words, Fuji intends the X-Pro1 to be two completely different cameras in one: first, a modern take on the classic interchangeable lens rangefinder, and second, its entrant in the interchangeable lens EVIL class. This is clever, and expanded functionality can never be detrimental to the photographer. It does make me think, however, that the X-Pro1 is a slightly schizophrenic camera at times, both in the mind of its users and the reality of its performance. After only a week with it, I will pass no judgement on its character, other than to say it is a fascinating attempt at converging diametrically opposite modes of photography into a single machine. Fuji is nothing if not innovative.
So have they succeeded in creating a great camera?"