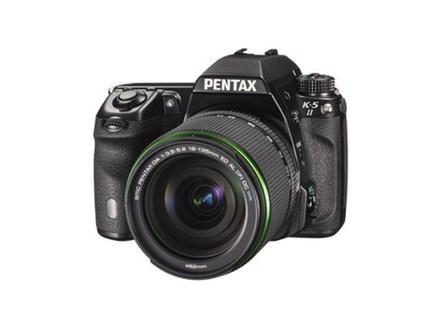 Pentax Ricoh has announced its latest flagship DSLRs - the K-5 II and K-5IIs. The 's' version, which costs $100 more, comes without an anti-aliasing filter, to offer higher resolution at the risk of more prominent moiré interference patterns. Both cameras feature 16MP sensors and the weather-sealed magnesium alloy build of the original K-5.
The biggest difference is the latest, SAFOX X, autofocus sensor. This is designed to work in lower light than any of its rivals (down to -3EV) it will also provide greater accuracy when working with F2.8 and fast lenses. The SAFOX X also features more sophisticated focus tracking, to keep focus when the subject moves off the original focus point. The K-5 II and IIs also gain rear LCD panels with no air gap between the panel and the protective glass, reducing internal reflections and improving visibility in bright light.
The K-5 II will be available from October at a cost of around $1350 with 18-55mm WR kit zoom. The K-5 IIs will be available, body-only for around $1300 - a $100 premium over the standard version.