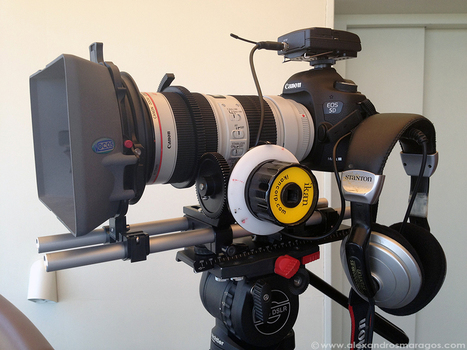 Irecently had the pleasure of shooting three interviews in Athens for Hermann Vaske's new documentary about creativity and the Balkans.
The three distinguished and highly respected artists interviewed by Hermann were Phedon Papamichael ASC, Actor & Director Renos Haralambidis & Director Helen Angelopoulos, Theo Angelopoulos's daughter. Since we had to shoot only interviews i used my basic 5D Mark III setup and just one lens, the Canon EF 70-200mm f/2.8L IS II which is great for interviews.
I also had with me 3 more lenses: Canon EF 50mm f/1.4, Canon EF 14mm f/2.8L II and Canon EF 24-70mm f/2.8L. For a second / backup camera i had my trusty Canon 7D with the Canon EF-S 17-55 f/2.8 IS that only mount on Canon EF-S bodies and it's my favorite 1.6x lens. With the latest Canon 7D Firmware Update (2.0) we also now have Manual Audio Control.
Also used the IKAN Follow Focus & IKAN Monitor, Vocas MatteBox and ND filters, all in my Sachtler CineDSLR tripod.
Via
Henrik Flensborg