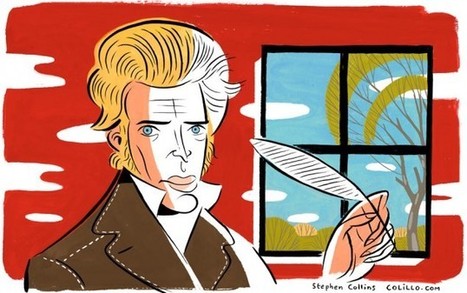 He is the dramatic, torrential thunderstorm at the heart of philosophy and his provocation is more valuable than ever-
..Kierkegaard was not so much an oasis in this desert as a dramatic, torrential thunderstorm at the heart of it. Discovering him as a 17-year-old suddenly made philosophy and religion human and exciting, not arid and abstract. In part that's because he was a complex personality with a tumultuous biography. Even his name emanates romantic darkness. 'Søren' is the Danish version of the Latin severus, meaning 'severe', 'serious' or 'strict', while 'Kierkegaard' means churchyard, with its traditional associations of the graveyard.
He knew intense love, and was engaged to Regine Olsen, whom he describes in his journals as 'sovereign queen of my heart'. Yet in 1841, after four years of courtship, he called the engagement off, apparently because he did not believe he could give the marriage the commitment it deserved. He took love, God and philosophy so seriously that he did not see how he could allow himself all three.
He was a romantic iconoclast, who lived fast and died young, but on a rollercoaster of words and ideas rather than sex and booze. During the 1840s, books poured from his pen. In 1843 alone, he published three masterpieces, Either/Or, Fear and Trembling, and Repetition.