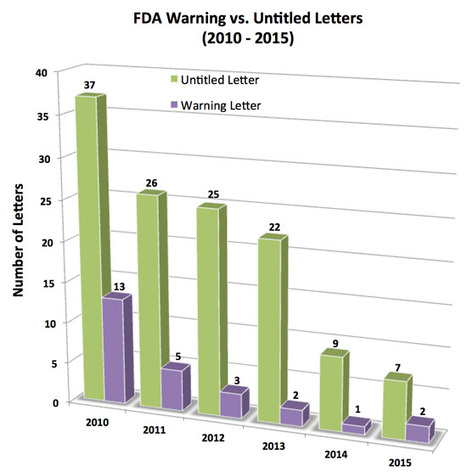 The FDA last year issued nine infraction letters to drug makers for the way they promoted their products, an all-time low.
The decline may reflect the FDA's "unfinished work" in formulating guidelines for digital media, according to Mark Senak of the public relations firm Fleishman-Hillard, who writes Eye on FDA. This is an ongoing issue that has flummoxed drug makers, who are grappling with ways to harness social media to reach consumers while trying to avoid regulatory infractions.
Indeed, although drug makers have embraced the Internet — at least, in varying degrees — the FDA has been slow to issue guidelines that might prompt the agency to uncover violations that warrant letters.
One other point worth noting — Eye on FDA writes that, for the past few years, most of the OPDP violation letters "largely involved" drug makers that are "lesser known" and typically have fewer products on the market. Are smaller drug makers bigger risk takers when it comes to promotions? Have the biggest drug makers figured out how to avoid infractions, or are they simply shying away from some efforts?