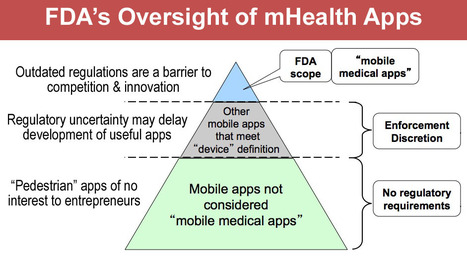 As advances the medical promise of its watch and smartphones, it has also made clear that its foremost aim is to steer clear of Food and Drug Administration regulation. Many assert that this imperative has rendered the health features in its sensor-laden watch underwhelming. Apple didn't want to cross the lines that would class its new watch as a "medical device" in the eyes of regulators.
Those lines are increasingly murky. FDA put out guidance earlier this year meant to set a boundary between digital tech not subject to its oversight, and the products that regulators want to review. FDA billed the document as an act of "de-regulation" because agency staff asserted whole categories of products that they didn't seek to actively supervise. But the stuff FDA excluded was pedestrian. The scheme they reserved for the vast rest of the digital health tools wasn't well articulated.
It means that those developing apps will have to come into FDA before they get too far, to see how the agency will treat them. More than likely, FDA will give its usual advice that most of the complex questions will be "review issues" that the agency will consider later. This "we'll know when we see it" approach to regulation leaves innovators in perpetual limbo. It's a formula for scaring away digital entrepreneurs, who can easily plumb their programming skills in other areas of commerce.