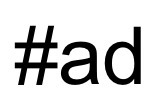 Andrew Spong (@andrewspong) writes:
'I am weary of digital healthcare conference organisers spamming hashtags such as #hcsmeu with weasel-worded tweets promoting their events.
I am of the opinion that these organisations contribute little of value to the health conversation on the social web whilst assuming that they have the right to raid the vehicles through which others share information and conversation for their own commercial purposes.
For everyone's good, I believe that digital healthcare conference organisers should add the hashtag #ad to any tweet that resolves to a URL containing details of a commercial conference in order that regular users of the hashtag can identify that the link they are inviting them to visit is an advert.
If a reader is in full possession of the facts about the link that they are considering clicking on, the post may no longer be deemed spam.
If a post does not foreground the fact that the URL resolves to a promotional page for a commercial conference, they are publishing link-bait spam.
So: should conference promoters include the #ad ('advert') hashtag in tweets containing URLs that resolve to commercial conferences?
Yes, or no?'
[AS: Click on the link in the title above to be taken to the one-click poll. No registration or other actions required.]