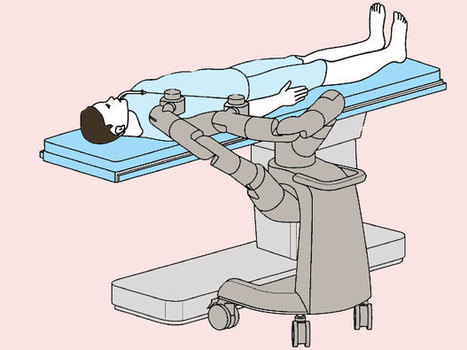 Teleoperated endolumenal bot can navigate inside the body, image and treat conditions without making incisions.
The U.S. Food and Drug Administration (FDA) has just approved the first medical robot from Auris Surgical, a stealthy startup led by the co-founder of industry leader Intuitive Surgical, makers of the widely-used da Vinci robot.
The teleoperated ARES robot (the acronym stands for Auris Robotic Endoscopy System), was cleared by the FDA at the end of May, and could now be used for diagnosing and treating patients.
Auris, which describes itself only as a "technology company based in Silicon Valley," was previously thought to be working on a robotic microsurgical system designed to remove cataracts, and the company has in fact filed several patent applications along those lines.
However, an investigation by IEEE Spectrum suggests that the company has greater ambitions, including, according to current and former employees, "building the next generation of surgical robots… capable of expanding the applicability of robotics to a broad spectrum of medical procedures."
A close reading of recent patent applications filed by Auris scientists shows that the company is focusing on so-called endolumenal (or endoluminal) surgery. This involves surgeons introducing flexible robots via the body's natural openings (the mouth in particular), to address conditions of the throat, lungs and gastrointestinal system. IEEE Spectrum can reveal that Auris has already carried out at least one successful human trial of such a robot, outside the United States.
Because endolumenal surgery does not involve large incisions or (usually) general anesthesia, it benefits fragile patients who cannot withstand the trauma of normal surgery. The Society for American Gastrointestinal and Endoscopic Surgeons estimates that effective endolumenal therapies for obesity and reflux diseases alone could help more than 1 million patients a year in the United States.
Via
Dr. Stefan Gruenwald