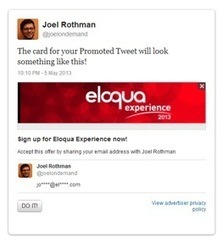 Excerpt...
The Lead Generation Card enables users to easily and securely share their email address with a business without leaving Twitter or having to fill out a form.
When someone expands your Tweet, they see a description of the offer and a call to action. Their name, @username, and email address are already pre-filled within the Card. The user simply clicks a button to send this information directly (and securely) to you.
You can easily embed a call to action inside a tweet. When this call to action is clicked, Twitter can fire information (such as Twitter handle and Email address) directly into an Eloqua Form, where you can take that information and process it just like any other Form submission.
Via
marketingIO