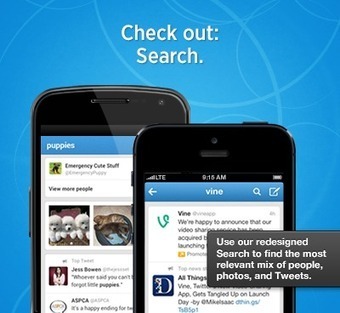 Excerpted from Official Twitter Blog:
"Today we're updating the Android and iOS apps, as well as mobile.twitter.com. This release provides a single stream of content in each tab, so you can better find what's most important to you when you're on the go.
- Discover: Now all the content in Discover — Tweets, Activity, Trends and suggestions of accounts to follow — appears in a single stream.
- Search: Search results now surface the most relevant mix of Tweets, photos, and accounts, all in one stream (similar to the stream in Discover).
- Connect: To provide a simpler experience in the Connect tab, the default view is now Interactions, which shows you new followers, retweets and mentions.
- Links: Click a URL in a Tweet to go directly to that website from any timeline and get to content highlighted on Twitter faster..."
Read full original article here:
http://blog.twitter.com/2013/02/search-and-discover-improvements-get.html
Via
Giuseppe Mauriello
,
Lisa Sicard
,
Gerrit Bes