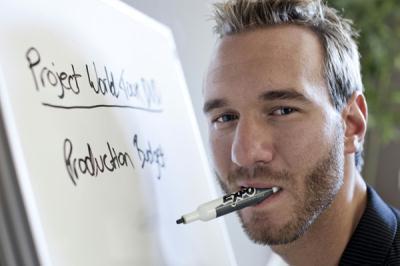 Nicholas James Vujicic es un joven de 29 años que nació en 1982 en la ciudad de Brisbane, Australia. Sin embargo, posee ascendencia serbia. Su madre la doctora Dushka Vujicic y su padre el pastor Borris Vujicic estaban más que expectantes al nacimiento de su primogénito, porque durante el embarazo no se había presentado ninguna complicación, no obstante, ese 4 de diciembre otra historia se escribiría para la vida del pequeño Nick, quien desde muy niño debería luchar contra la adversidad y contra una extraña enfermedad no prevista por sus padres.
La infancia de Nicholas no fue fácil, dado que tuvo que lidiar con una patología que se caracteriza por la carencia de tres de sus cuatro extremidades, llamada agenesia, lo que fue motivo de burlas y de mucha frustración puesto que, en un principio no podía realizar las mismas actividades que todos los demás. Esto lo llevó a un serio cuadro depresivo e incluso a intentar suicidarse, sin embargo "ese no era el propósito que Dios tenía preparado para mi" señaló el mismo Nick.
Vujicic es en la actualidad un motivador internacional y predicador del evangelio que ha estado en los cinco continentes, en más 30 países y con más de 12 mil encuentros cara a cara con personas de todo el mundo. Es director de la compañía sin fines de lucro Life Without Limbs, dedicada al tratamiento de niños sin extremidades y es reconocido por ser el autor del libro "Una vida sin límites", y por su destacada participación en cortometrajes, entre ellos el más conocido "Circo de las mariposas" donde se muestra como Nick, a través de sus habilidades distintas, es capaz de adaptarse a un mundo de artistas.
En Chile se hizo conocido por protagonizar la última entrevista del recordado periodista del canal estatal TVN, Felipe Camiroaga, donde promocionó su libro y aprovechó la instancia para conversar de los planes, y proyectos que Dios tiene con las personas, sin saber que terminado este diálogo, se desarrollaría el lamentable accidente que terminó con la vida del conductor.
A pesar de que Nick jamás ha recibido algún premio por su libro, sí ha sido nominado en su país natal al "Young Australian of the Year Award", condecoración otorgada exclusivamente para personas que sirven e inspiran a la comunidad. A demás es destacable notar como su estilo de vida ha significado un cambio en tantas personas que acuden a sus charlas, quienes quedan completamente conmocionados al salir de ellas, dado que es impactante que un joven hable de vivir una vida sin límites cuando él pareciera tenerlos.

Por Daniel Oses