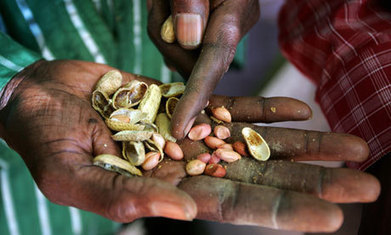 Mark Tran: Fair trade NGO Twin is calling for urgent action after revealing 60% of groundnuts are not tested for potentially lethal aflatoxins...
The GP3M Team composed of Dr. Anna Resurreccion and Dr. Majeet Chinnan have implemented the first and only effective Aflatoxin reeduction technology that results in peanut products that meet regulatory levels in industries in the scale for under-industrialized countries in Asia and Africa.-- Anna Resurreccion
Click on the link below to find a link to a story on aflatoxin that appeared in yesterday's Guardian newspaper that we hope will interest you. It outlines the issue of aflatoxin contamination in African countries and references Twin's call that food safety become an integral part of goals set for food security/nutrition by David Cameron and others at next year's G8 and also the new 'sustainable development goals' replacing the MDGs.
http://www.guardian.co.uk/global-development/2012/aug/10/malawi-food-safety-threatened-contaminated-groundnuts
Recent donations from the Gates Foundation and DFID are acknowledged in the article, as is the work of the Partnership for Aflatoxin Control in Africa, Icrisat and others. We hope that this and other coverage will help to raise the profile of this critical issue and support positive action for improvements in food safety in Africa. Twin would also like to thank DFID Malawi, the Malawi Government, NASFAM, Afri-Nut, Ex-Agris, Cordaid and SATH for their ongoing support.
For further information on Twin's aflatoxin and nuts-related projects, please go to: www.twin.org.uk/projects. And we will keep you informed of any new developments.