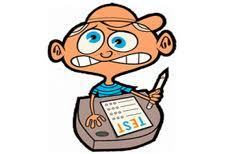 SUCCESSFUL TEST TAKING INVOLVES:
Attention to details - to understand the nuances of the question as well as provide the necessary content, depth and details in the response...Memory - making sure ALL the required materials were recalled and presented accurately, and that everything the questions required were addressed...Language - students must be able to read and comprehend exactly what the questions are asking..Sequencing - students must often recall ORDERS of events and relate them in the correct sequence and comprehensive manner...Grapho-motor skills - are also involved as students must have the physical control and stamina to write responses for each question in the proper test location and in a 'readable' answer...Cognition/Comprehension - aside from simply understanding the question, students must recognize and follow patterns, construct main ideas, compare and contrast information from memory, compare and contrast....
And we wonder why test-takers get anxious?

This post hopes to relieve test-taking anxiety while improving test-taking and study skills.

"A hundred cartloads of anxiety will not pay an ounce of debt" ---Italian Proverb.