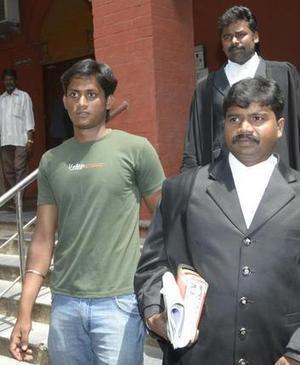 The body of dalit youth E. Ilavarasan, whose marriage with a Vanniyar girl led to caste tension, was found near a railway track behind the Dharmapuri Government Arts College on Thursday afternoon, sparking speculation that he had committed suicide in dejection over his wife Divya's statement that their marriage was over.
Speculation was rife that Mr. Ilavarasan of Natham Colony in Naikkankottai village in Dharmapuri district committed suicide by jumping before the Kurla Express from Coimbatore to Lok Manya Tilak Terminus.
Mr. Ilavarasan's death came just a day after Ms. Divya told reporters in the Madras High Court campus that she had no intention of returning to her husband, whom she had left earlier this month following caste tension between her Vanniyars and Dalits, and on the political firmament, between the Pattali Makkal Katchi (PMK) and Viduthalai Chiruthaikal Katchi (VCK).
Ms. Divya's father committed suicide last November. Houses were ransacked and torched in Natham, Anna Nagar and Kondampatti Colonies in Naikkankottai village on November 7, 2012.
Police sources said the youth was believed to have come to the spot around 12.30 p.m. on a motorcycle and sat for some time near the railway track behind the Arts College. It was alleged that he jumped before the Mumbai-bound Kurla Express between 1 p.m. and 1.30 p.m.