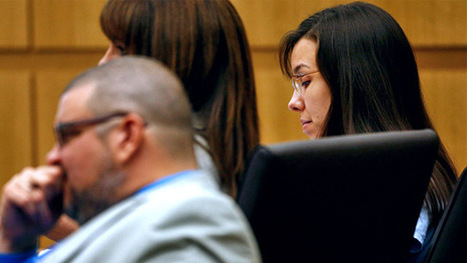 Arizona jurors who begin their first full day of deliberations in the Jodi Arias murder trial today will consider that the most serious charge facing Arias could carry the death penalty.
The jurors also have the option of convicting Arias of second degree murder, manslaughter or acquitting her.
Prosecutor Juan Martinez repeatedly asked the jury during his closing statements Thursday and Friday to convict Arias of first degree murder, arguing that the killing was premeditated.
"The state is asking that you return a verdict of guilty, a verdict of first degree murder, not just premeditated murder, but also felony murder, for no other reason than it's your duty, and the facts and the law support it," Martinez said at the end of his statement Friday.
Arias had admitted to killing her ex-boyfriend, Travis Alexander, in June 2008, but claims it was in self-defense after Alexander flew into a violent rage during an argument. The defense has argued that Alexander had become increasingly abusive sexually, physically and emotionally.

Rob Schumacher/Pool/The Arizona RepublicDefendant Jodi Arias listens to prosecutor... View Full Size
Jodi Arias Murder Case Now in Hands Of Jury Watch Video
Arias Prosecutor: 'She Knew She Was Going to Kill Him' Watch Video
Marathon Last Day of Testimony In Arias Trial Watch Video
Her attorney, Kirk Nurmi, argued last week that Arias may have "snapped," when she was fighting off Alexander, resulting in the gruesome killing that included a gunshot wound to the head, 27 stab wounds, and a slit throat.
He asked the jury to consider manslaughter instead of the murder charges if they were inclined to find Arias guilty of anything.
"It may be that Jodi Arias didn't know when to stop," Nurmi said Friday. "Couldn't it also be that after everything that she simply snapped? She may not know it, but she may very well have snapped. Out of control. Sudden heat of passion. We have been through so much and look what happened now, this instance of violence went too far."