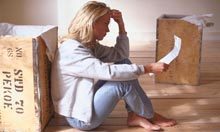 Notting Hill Housing faces an end to 700 tenancies when the housing benefit cap hits London households.
Many people argue that the housing benefit bill is too high and that those needing support to find and sustain a home should not be housed in the most valuable properties in central London.
Notting Hill Housing provides 2,500 leased homes in London for homeless households and the rapid introduction of benefit caps for existing tenants will have profound and unfortunate effects for our tenants.
More children taken into care?