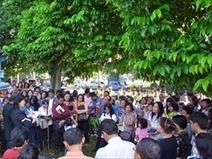 Bogor City, 60 kilometres south of the Indonesian capital Jakarta, is reported to be one of the world's most densely populated areas.
In April 2010, Bogor's Taman Yasmin Indonesia Christian Church (GKI Yasmin) was closed by order of the Mayor and city government. In December that year, the Indonesian Supreme Court affirmed the church's constitutional right to freedom of worship; however the Mayor refused to reopen the church. The Indonesian Ombudsman's Office also urged the Bogor city administration to withdraw its later 2011 decree annulling the church's construction permit.

But now, in the latest twist in the long-running saga, Indonesia's Interior Minister, along with the Bogor City authorities, decided at a meeting in September that the church would not reopen, but instead should relocate about 7 kilometres away. In addition to the Mayor and Interior Minister, representatives of the Muslim Communications Forum (Forkami) – a hard-line religious group known for its stance against GKI Yasmin – attended the meeting.