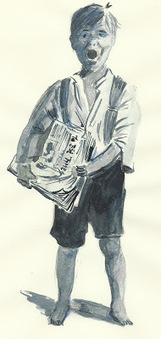 The ESL Times is a collaborative project launched by 5 enthusiastic teachers to encourage students to read, write, listen and speak in English using ICT. Students will create an English digital magazine, so they will have to write their own articles or record their own videos using any web 2.0 tool. You will find the guidelines for reporters in the following link: https://docs.google.com/presentation/d/1vBNRbE9VE65nEQyHz7DtfUxIldKmCsye6V3TrNay4OM/edit#slide=id.gcf7de2bc_036
Art and Entertainment: music, crosswords, questionnaires, and so on.
News: local, school or county news.
Opinion: opinion articles about current issues.
School Life: classroom activities, projects, videos...
Storytelling: tales, stories, comics...
Via
Inma Alcázar