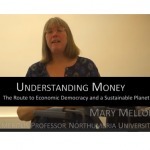 'Mary Mellor's understanding makes an essential contribution to anyone wanting to know more about how the money system works and what its future could and should be.
She takes the view that money is a public resource that should be used to provision human societies on the basis of social justice, wellbeing and environmental responsibility. A steady state economy would be possible if the money system was not driven by the demands of debt-based money, financial accumulation and profit-driven growth. Money should be reclaimed and democratised for the benefit of the whole of society and the natural world.
I support that view wholeheartedly, and warmly recommend these films to anyone who wants to learn more and think what we should do about it.'
James Robertson, author of Future Money: Breakdown or Breakthrough.