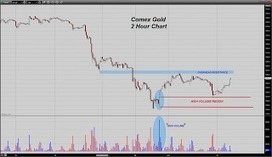 Gold jumped in overnight trading during the early Asian session when China released its version of the CPI. June CPI came in at +2.7% on the year where the market was looking for +2.5%. Apparently there was a rush to grab gold when the data hit the wire. Prior to that gold was relatively quiet with a slight bias to the upside.

As you can see on the chart, volume is miniscule however. The big test will be what the metal does when it enters European trading but more importantly, New York trading.

The weakness in the gold shares today (Monday) is generally a bearish sign when the metal and the shares go their own separate way so call me a skeptic until proven otherwise. Asia still loves gold while the West seems to despise it; until the West comes around to falling back in love with the metal, it will be up to Asian buying to do the heavy lifting in the metal.

I have noted an overhead chart resistance zone which basically extends from last week's high at $1267 - $1269. Bears will be ...
Via
Hal