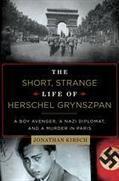 The Short, Strange Life of Herschel Grynszpan: A Boy Avenger, a Nazi Diplomat, and a Murder in Paris by Jonathan Kirsch
May 6, 2013 9780871404527, 0871404524 $27.95/$29.50 Can.
On the 75th anniversary of Kristallnacht comes this untold story of a teenager whose act of defiance would have dire international consequences.
On the morning of November 7, 1938, Herschel Grynszpan, a desperate seventeen-year-old Jewish refugee, walked into the German embassy in Paris and shot Ernst vom Rath, a Nazi diplomat. Two days later vom Rath lay dead, and the Third Reich exploited the murder to unleash Kristallnacht—its horrific campaign of terror against Germany's Jewish citizens in a bizarre concatenation of events that would rapidly involve Ribbentrop, Goebbels, and Hitler himself. Bestselling author Jonathan Kirsch brings to light this wrenching story, reexamining the historical details and moral dimensions of one of World War II's most enigmatic cases. Was Grynszpan a deranged lone gunman or psychopath, as Hannah Arendt claimed, or was he an early resistance fighter? Had this young man and his victim shared an intimate connection, as Grynszpan later claimed? Kirsch illuminates a life cast into the shadows of history in a compelling biography that is part page-turning historical thriller and part Kafkaesque legal drama.