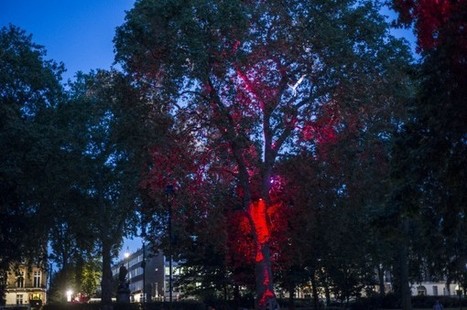 A London public display that ran for weeks prior to the Olympic Games and up to the opening ceremonies set out to show citizens firsthand the benefits of trees in urban environments. Trees remove pollution and harmful carbon compounds from the air that could be damaging to human health, and their presence in urban atmospheres is estimated to save over 2 billion euros in healthcare expenses. Green environments are also proven to increase property values, lower obesity, and contribute to reduced criminal activity.
This knowledge was the base for the Russell Square exhibit "Breathing Trees" -- transforming the urban park into "the lungs of the city". Digital art company Creatmosphere partnered with the Camden Borough Council on the project, which implanted colored LED lights into the two largest trees in Russell Square. The visual effect combines with sound installations to create the inflating and defaulting movements of the lungs set against the sounds of a beating human heart.
"Breathing trees in not just a visual audio spectacle…it will reinforce our message that our natural environment must be protected," said Councillor Phil Jones, who is Camden's cabinet member for sustainability.