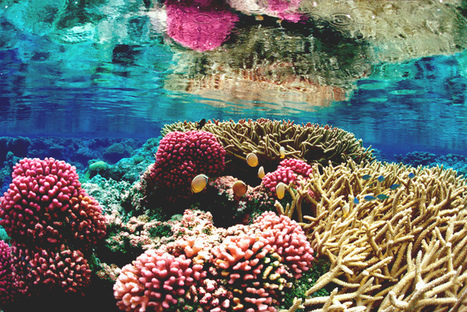 Next Starfish, January 5, 2012
-▶ THE END OF CORAL REEFS?
Coral reefs are remarkable ecosystems, home to over 25% of the world's known marine species and; feeding nearly 275 million people. But coral reefs across the world are dying - being destroyed by a combination of local and global impacts... http://nextstarfish.com/?p=6588
Common Dreams, April 01, 2014
-▶ UNPRECEDENTED OCEAN TEMPERATURES ON TRACK TO BRING DEATH TO CORAL ECOSYSTEMS. 'It's not that change is going to come, it's that change is already happening' http://www.commondreams.org/headline/2014/04/01-1
WATCH
Treehugger, April 02, 2014
NATURE BLOWS MY MIND!
TIMELAPSE FILM OF 150,000 PHOTOS SHOWS THE MIRACLE OF SLOW LIFE OF CORALS. THE UNDERWATER CREATURES YOU NEVER SEE. Coral is actually a living creature, but the human eye rarely catches it moving. This incredibly slow-motion video lets you see the ocean life you don't notice, before it's destroyed by climate change. http://www.treehugger.com/natural-sciences/slow-life-150000-photos-timelapse-corals-daniel-stoupin.html
Guardian, March 08, 2014
-▶ CORAL REEFS: LIFE IN THE BALANCE http://www.theguardian.com/environment/2014/mar/09/coral-reefs-bleaching-life-in-the-balance
The Independent, September 23, 2013
-▶ CORAL ALERT: DESTRUCTION OF REEFS 'ACCELERATING' WITH HALF DESTROYED OVER PAST 30 YEARS
The eco-system has been around for tens of millions of years and we are wiping it out within a hundred, says IPCC scientist http://www.independent.co.uk/environment/climate-change/coral-alert-destruction-of-reefs-accelerating-with-half-destroyed-over-past-30-years-8835480.html
Climate Progress, January 3, 2014
-▶ ARE WE WITNESSING THE END OF CORAL REEFS?
Tropical coral reefs form the very foundation of marine biodiversity. Sadly, their seemingly inevitable demise may prove to be one of the first irreversible consequences of climate change. That's the conclusion of a comprehensive new report on abrupt climate changes from the National Academy of Sciences. http://thinkprogress.org/climate/2014/01/03/3118001/coral-reefs-climate-change/
BEAUTIFUL PHOTO GALLERY
A FRAGILE EMPIRE
AUSTRALIA'S GREAT BARRIER REEF
From tiny coral polyps grew a marvel: Australia's Great Barrier Reef. Could it all come crumbling down? http://ngm.nationalgeographic.com/2011/05/great-barrier-reef/doubilet-photography
-▶ AUSTRALIA: THE GREAT BARRIER REEF WE STAND TO LOSE http://sco.lt/6q4ykD
BBC News, February 16, 2014
▶ KILLER STARFISH THREATEN GREAT BARRIER REEF: AND AGRICULTURAL FERTILIZER RUNOFF IS TO BLAME http://www.bbc.co.uk/news/science-environment-26183209
▶ THE CURSE OF INDUSTRIAL FARM FERTILIZERS AND RUNOFF http://sco.lt/7a28sT
Guardian Environment, December 15, 2013
-▶ HAS A NATURAL WORLD WONDER JUST BEEN APPROVED FOR DESTRUCTION BY THE AUSTRALIAN GOVERNMENT? One of the natural wonders of the world is about to have 3 million cubic metres of sludge dumped on top of it.... http://www.theguardian.com/environment/southern-crossroads/2013/dec/15/great-barrier-reef-destruction-abbot-point-greg-hunt
-▶ "CORAL REEFS: UNDERWATER PHARMACIES" http://sco.lt/733VaL
NOAA,
-▶ SUNSCREEN CHEMICAL THREATENS CORAL REEFS: Additive used in personal-care products since the 1960s to protect against ultraviolet light http://oceanservice.noaa.gov/news/feb14/sunscreen.html
▶ BOTTOM TRAWLING: SCRAPING THE BOTTOM OF THE OCEAN CLEAN: AN INSATIABLE DRIVE FOR PROFITS, DESTRUCTION OF OCEANS http://sco.lt/7QNLQ9
Science Daily, December 17, 2013
-▶ SAVING FIJI'S CORAL REEFS LINKED TO FOREST CONSERVATION http://www.sciencedaily.com/releases/2013/12/131217155329.htm
;
WATCH
-▶ HOW THE CORAL REEF WILDLIFE TRADE IS DEGRADING CORAL REEFS http://www.scoop.it/t/our-oceans-need-us/p/2452598153/how-the-coral-reef-wildlife-trade-is-degrading-coral-reefs
-▶ CORAL REEFS IN CARIBBEAN ON LIFE SUPPORT http://sco.lt/7GodYf
WATCH
**** THE GARDENS OF THE QUEEN" -
60 Minutes - CBS News
Water World, October 29 2013
-▶ NATURAL CORAL CHEMICALS PROTECT AGAINST WARMING OCEANS http://www.terradaily.com/reports/Coral_chemicals_protect_against_warming_oceans_999.html
-▶ THESE MACRO CORAL PHOTOS ARE TOTALLY JAW-DROPPING http://www.huffingtonpost.com/2013/09/05/coral-photos_n_3876179.html
WATCH
CORAL REEFS: THE OCEANS' LARDER
BBC Future, February 13, 2013
http://www.bbc.com/future/story/20130219-coral-reefs-the-oceans-larder
Science Daily, December 4, 2013
-▶ FIRST GLOBAL SNAPSHOT OF KEY CORAL REEF FISHES: FISHING HAS REDUCED VITAL SEAWEED EATERS BY MORE THAN 50 PERCENT http://www.sciencedaily.com/releases/2013/12/131204091620.htm

Jan 19, 2012 - Planet Earth
-▶ CLIFF HANGER CORALS AVOID BOTTOM-TRAWLER DAMAGE
http://planetearth.nerc.ac.uk/news/story.aspx?id=1139&cookieConsent=A
October 11, 2012 Planet Change
-▶ THE CORAL REEF CRISIS THREATENS NATURE'S ABILITY TO HELP US DEAL WITH CLIMATE CHANGE http://change.nature.org/2012/10/11/people-at-risk-to-natural-disasters-and-how-nature-can-help/
July 3, 2013 About My Planet
-▶ CLOWNFISH LOSE HEARING IN ACIDIC WATERS: SPELLS DEATH TO CORAL REEFS http://www.aboutmyplanet.com/environment/clownfish-lose-hearing-in-acidic-waters/
-▶ ANIMALS ARE ALREADY DISSOLVING IN SOUTHERN OCEAN http://sco.lt/7tBxMP
OnEarth Magazine, February 28, 2012
-▶ OVERFISHING UNLEASHES A SCOURGE OF SEA URCHINS ON REEFS http://www.onearth.org/blog/overfishing-unleashes-scourge-of-sea-urchins-on-reefs
-▶ A BILLION-DOLLAR BUSINESS PUTS SPECIES AND PEOPLE AT RISK
At least 12% of groupers – globally-important food fish species that live on coral and rocky reefs – face extinction http://sco.lt/5HdRr7
Guardian Environment, September 18, 2013
-▶ CORAL REEFS SUFFER AS THE RELENTLESS HUNT FOR SHARK FINS TAKE ITS TOLL.
The rampant overfishing of sharks, often solely for their fins, is causing a damaging chain reaction that could significantly degrade coral reef systems, a decade-long Australian-led study has found. "The result of this is that the whole food chain is being thrown out of whack." ... creating a collapse of the food chain.
http://www.theguardian.com/environment/2013/sep/19/coral-reefs-suffer-hunt-sharks
PHOTOS
-▶ BREATHTAKING PANORAMIC IMAGES OF CORAL REEFS REVEAL HOW THEY'RE BEING DESTROYED http://www.fastcoexist.com/3018381/breathtaking-panoramic-images-of-coral-reefs-reveal-how-theyre-being-destroyed
Smithsonian, December 18, 2012
-▶ THE TEN BEST OCEAN STORIES OF 2012 http://blogs.smithsonianmag.com/science/2012/12/the-ten-best-ocean-stories-of-2012/
-▶ OCEAN ACIDIFYING: RAPIDLY RISING C02 IN ATMOSPHERE CAUSING POTENTIAL CATASTROPHE http://sco.lt/8WLvHd
RedOrbit, December 12, 2013
-▶ UNIVERSITY RESEARCHERS OBSERVE SURPRISING BONEFISH SPAWNING BEHAVIOR IN THE BAHAMAS
Bonefish, also called gray ghosts, are among the most elusive and highly prized fishes sought by recreational anglers in the Florida Keys, Bahamas and similar tropical habitats around the world. Bonefish support a fishery worth hundreds of millions of dollars annually, but this fishery is threatened in many areas by habitat loss and degradation, and by overfishing. Scientists are scrambling to identify and protect critical habitats and identify other ways to conserve this vital fishery.
A recent study of bonefish spawning behavior in the Bahamas brings to light new information that should aid bonefish conservation efforts.
Read more at http://www.redorbit.com/news/science/1113026726/university-researchers-observe-surprising-bonefish-spawning-behavior-in-the-bahamas/#Xr7m1QVDK17sgExx.99
VIDEO
BONEFISH GOING OFFSHORE TO SPAWN
http://www.youtube.com/watch?v=5KMGm39zOqI
Scientific American, October 16, 2013
▶ ▶ HOW TO SAVE CORAL REEFS FROM CLIMATE CHANGE: GENETIC MANIPULATION? http://blogs.scientificamerican.com/observations/2013/10/16/how-to-save-coral-reefs-from-climate-change-genetic-manipulation/
WATCH
Another Stunner From BBC Nature.....
-▶ **** "BLUE HEART OF THE PLANET"
http://www.bbc.com/future/story/20130129-blue-heart-of-the-planet
-▶ THE CORAL REEF CRISIS THREATENS NATURE'S ABILITY TO HELP US DEAL WITH CLIMATE CHANGE http://sco.lt/97QaEz
UNESCO Office in Bangkok, February 22, 2012
-▶ MARINE SCIENTIST ALARMED ABOUT INCREASING THREATS TO OCEAN ECOSYSTEMS http://www.unescobkk.org/news/article/marine-scientists-alarmed-about-increasing-threats-to-ocean-ecosystems/
-▶ OUR OCEANS ARE DYING: RAPIDLY SPIRALING DOWNWARD: MASS EXTINCTION MAY BE INEVITABLE http://sco.lt/8CFwcT
-▶ "WE HAVE FIVE MINUTES BEFORE MIDNIGHT" - UN CHIEF SCIENTIST URGES ACTION ON CLIMATE CHANGE http://sco.lt/6heNd3
-▶ SEA CHANGE: THE LOSS OF OCEAN SPECIES IS STAGGERING http://sco.lt/51LeCn
-▶ DESTRUCTIVE FISHING GEAR KILLS 400K SEABIRDS EACH YEAR http://sco.lt/7UfLIP
-▶ CLIMATE CHANGE AND OCEAN ACIDIFICATION: HIGHEST LEVELS IN 56 MILLION YEARS - ARCTIC COULD BE ICE FREE IN TWO YEARS http://sco.lt/5txWXB
-▶ CLIMATE GEOENGINEERING: CAN WE SAVE THE PLANET BY MESSING WITH NATURE? http://sco.lt/5w8RM1