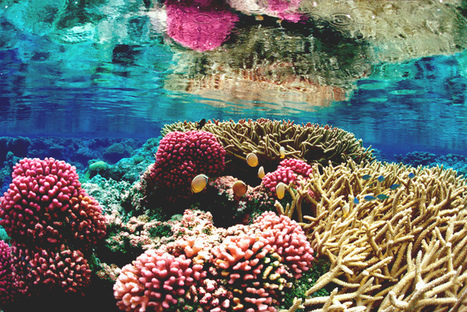 Next Starfish, January 5, 2012
THE END OF CORAL REEFS?
Coral reefs are remarkable ecosystems, home to over 25% of the world's known marine species and; feeding nearly 275 million people. But coral reefs across the world are dying - being destroyed by a combination of local and global impacts... http://nextstarfish.com/?p=6588
Science Daily, December 4, 2013
-▶ FIRST GLOBAL SNAPSHOT OF KEY CORAL REEF FISHES: FISHING HAS REDUCED VITAL SEAWEED EATERS BY MORE THAN 50 PERCENT http://www.sciencedaily.com/releases/2013/12/131204091620.htm
National Geographic, November 18, 2013
-▶ AUSTRALIA AUTHORIZING DESTRUCTION OF GREAT BARRIER REEF http://newswatch.nationalgeographic.com/2013/11/18/australia-authorizing-destruction-of-great-barrier-reef/
PHOTOS
-▶ THE GREAT BARRIER REEF WE STAND TO LOSE - IN BEAUTIFUL PICTURES http://sco.lt/6q4ykD
The Independent, September 23, 2013
-▶ CORAL ALERT: DESTRUCTION OF REEFS 'ACCELERATING' WITH HALF DESTROYED OVER PAST 30 YEARS
The eco-system has been around for tens of millions of years and we are wiping it out within a hundred, says IPCC scientist http://www.independent.co.uk/environment/climate-change/coral-alert-destruction-of-reefs-accelerating-with-half-destroyed-over-past-30-years-8835480.html ;
WATCH
-▶ HOW THE CORAL REEF WILDLIFE TRADE IS DEGRADING CORAL REEFS http://www.scoop.it/t/our-oceans-need-us/p/2452598153/how-the-coral-reef-wildlife-trade-is-degrading-coral-reefs
-▶ CORAL REEFS IN CARIBBEAN ON LIFE SUPPORT http://sco.lt/7GodYf
Water World, October 29 2013
-▶ NATURAL CORAL CHEMICALS PROTECT AGAINST WARMING OCEANS http://www.terradaily.com/reports/Coral_chemicals_protect_against_warming_oceans_999.html
-▶ THESE MACRO CORAL PHOTOS ARE TOTALLY JAW-DROPPING http://www.huffingtonpost.com/2013/09/05/coral-photos_n_3876179.html
WATCH
BBC Future, February 13, 2013
-▶ CORAL REEFS: THE OCEANS' LARDER
http://www.bbc.com/future/story/20130219-coral-reefs-the-oceans-larder

-▶ "CORAL REEFS: UNDERWATER PHARMACIES" http://sco.lt/733VaL
Jan 19, 2012 - Planet Earth
-▶ CLIFF HANGER CORALS AVOID BOTTOM-TRAWLER DAMAGE
http://planetearth.nerc.ac.uk/news/story.aspx?id=1139&cookieConsent=A
WATCH
**** THE GARDENS OF THE QUEEN" -
60 Minutes - CBS News
October 11, 2012 Planet Change
-▶ THE CORAL REEF CRISIS THREATENS NATURE'S ABILITY TO HELP US DEAL WITH CLIMATE CHANGE http://change.nature.org/2012/10/11/people-at-risk-to-natural-disasters-and-how-nature-can-help/
July 3, 2013 About My Planet
-▶ CLOWNFISH LOSE HEARING IN ACIDIC WATERS: SPELLS DEATH TO CORAL REEFS http://www.aboutmyplanet.com/environment/clownfish-lose-hearing-in-acidic-waters/
-▶ ANIMALS ARE ALREADY DISSOLVING IN SOUTHERN OCEAN http://sco.lt/7tBxMP
OnEarth Magazine, February 28, 2012
-▶ OVERFISHING UNLEASHES A SCOURGE OF SEA URCHINS ON REEFS http://www.onearth.org/blog/overfishing-unleashes-scourge-of-sea-urchins-on-reefs
-▶ A BILLION-DOLLAR BUSINESS PUTS SPECIES AND PEOPLE AT RISK
At least 12% of groupers – globally-important food fish species that live on coral and rocky reefs – face extinction http://sco.lt/5HdRr7
Guardian Environment, September 18, 2013
-▶ CORAL REEFS SUFFER AS THE RELENTLESS HUNT FOR SHARK FINS TAKE ITS TOLL.
The rampant overfishing of sharks, often solely for their fins, is causing a damaging chain reaction that could significantly degrade coral reef systems, a decade-long Australian-led study has found. "The result of this is that the whole food chain is being thrown out of whack." ... creating a collapse of the food chain.
http://www.theguardian.com/environment/2013/sep/19/coral-reefs-suffer-hunt-sharks
PHOTOS
-▶ BREATHTAKING PANORAMIC IMAGES OF CORAL REEFS REVEAL HOW THEY'RE BEING DESTROYED http://www.fastcoexist.com/3018381/breathtaking-panoramic-images-of-coral-reefs-reveal-how-theyre-being-destroyed
Smithsonian, December 18, 2012
-▶ THE TEN BEST OCEAN STORIES OF 2012 http://blogs.smithsonianmag.com/science/2012/12/the-ten-best-ocean-stories-of-2012/
-▶ OCEAN ACIDIFYING: RAPIDLY RISING C02 IN ATMOSPHERE CAUSING POTENTIAL CATASTROPHE http://sco.lt/8WLvHd
----=== NOW INSTEAD OF ADDRESSING THE CAUSES OF PLANETARY ECOSYSTEMS DETERIORATION, WE WANT TO RE-ENGINEER THE ORGANIC NATURE OF THE BIOSPHERE TO SUIT OUR DESTRUCTIVE HABITS CAUSING THE DEMISE
Scientific American, October 16, 2013
▶ ▶ HOW TO SAVE CORAL REEFS FROM CLIMATE CHANGE: GENETIC MANIPULATION http://blogs.scientificamerican.com/observations/2013/10/16/how-to-save-coral-reefs-from-climate-change-genetic-manipulation/
VIDEO
-▶ CLIMATE GEOENGINEERING: CAN WE SAVE THE PLANET BY MESSING WITH NATURE? http://sco.lt/5w8RM1
WATCH
Another Stunner From BBC Nature.....
-▶ **** "BLUE HEART OF THE PLANET"
http://www.bbc.com/future/story/20130129-blue-heart-of-the-planet
THE CORAL REEF CRISIS THREATENS NATURE'S ABILITY TO HELP US DEAL WITH CLIMATE CHANGE http://sco.lt/97QaEz
UNESCO Office in Bangkok, February 22, 2012
-▶ MARINE SCIENTIST ALARMED ABOUT INCREASING THREATS TO OCEAN ECOSYSTEMS http://www.unescobkk.org/news/article/marine-scientists-alarmed-about-increasing-threats-to-ocean-ecosystems/
-▶ OUR OCEANS ARE DYING: RAPIDLY SPIRALING DOWNWARD: MASS EXTINCTION MAY BE INEVITABLE http://sco.lt/8CFwcT
-▶ "WE HAVE FIVE MINUTES BEFORE MIDNIGHT" - UN CHIEF SCIENTIST URGES ACTION ON CLIMATE CHANGE http://sco.lt/6heNd3
-▶ SEA CHANGE: THE LOSS OF OCEAN SPECIES IS STAGGERING http://sco.lt/51LeCn
-▶ DESTRUCTIVE FISHING GEAR KILLS 400K SEABIRDS EACH YEAR http://sco.lt/7UfLIP
-▶ CLIMATE CHANGE AND OCEAN ACIDIFICATION: HIGHEST LEVELS IN 56 MILLION YEARS - ARCTIC COULD BE ICE FREE IN TWO YEARS http://sco.lt/5txWXB