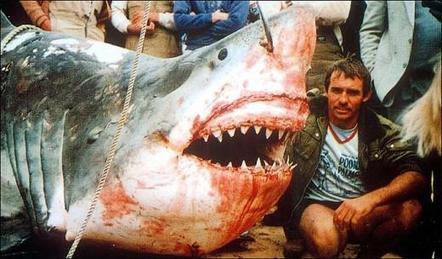 The brutal and senseless killing of endangered Great White sharks is impoverishing our oceans and if the oceans die, we die. Photo from projectware.org
Sydney Morning Herald, January 16, 2014
▶ SHARK ATTACK SURVIVOR SLAMS AUSTRALIAN 'STUPID' SHARK CULL http://www.smh.com.au/environment/animals/shark-attack-survivor-slams-stupid-shark-cull-20140116-30vsq.html
The Dodo, January 27, 2014
▶ 102 SCIENTISTS PEN LETTER PROTESTING AUSTRALIA'S UNSCIENTIFIC SHARK CULL https://www.thedodo.com/102-scientists-pen-letter-prot-405765585.html
HuffPost Green, January 28, 2014
▶ AUSTRALIAN BRUTAL SHARK SLAUGHTER IMPOVERISHES OCEAN ECO SYSTEMS
On Australia Day (Jan 26, 2014) a beautiful 10-foot female Tiger shark was barbarically ensnared on a baited drum line for likely 12 hours before she was brought alongside a fishing boat, shot four times in the head and died. Her body was dragged to sea and dumped....
http://www.huffingtonpost.com/dr-reese-halter/australia-shark-slaughter_b_4683983.html
The wild ocean is awesome. It's a dangerous place. It's also home to the life force of our planet.
INSANE:
The problem is overfishing their natural food sources. They are going to feed on something. Do they think they will "teach" sharks not to do what they are bred to do or come near shore....nuts !!
The Independent, January 29, 2014
-▶ AUSTRALIA'S BRUTAL SHARK CULL IS NOT THE WAY TO PREVENT ATTACKS http://www.independent.co.uk/voices/comment/australias-brutal-cull-proves-humans-are-deadlier-than-sharks-9092995.html
National Geographic, January 30, 2014
MEXICO IS SAVING SHARKS WHILE AUSTRALIA KILLS THEM http://newswatch.nationalgeographic.com/2014/01/30/mexico-is-saving-sharks-while-australia-kills-them/#at_pco=tcb-1.0&at_tot=4&at_ab=-&at_pos=0
WATCH
"CHANGING SEAS
TIGER SHARKS"
4 MILLION YEARS IN THE MAKING AND LOSING THEM FAST http://sco.lt/744LPF

-▶ AUSTRALIA'S SHARK CULL BEGINS IN CONTROVERSIAL BID TO STOP STRING OF DEADLY ATTACKS http://www.huffingtonpost.com/2014/01/26/australia-shark-cull-_n_4667845.html?ref=topb
Perth Now, January 26, 2014
-▶ FIRST SHARK KILLED IN CONTROVERSIAL WESTERN AUSTRALIAN CATCH-AND-KILL POLICY http://www.perthnow.com.au/news/western-australia/first-shark-killed-in-controversial-wa-catchandkill-policy/story-fnhocxo3-1226810652353
Live Science, January 08, 2014
-▶ GREAT WHITE SHARKS LIVE A LONG A HUMANS, MAKING THEM MORE VULNERABLE TO OVERFISHING http://www.livescience.com/42423-great-white-sharks-live-long.html
-▶ SHARK POPULATIONS HAVE PLUMETTED BY 90% IN RECENT DECADES. EXTINCTION AHEAD
Shark populations have plummeted by 90% in recent decades...will be extinct in a few years. The Guardian reports that 2011 may be the last year that eating shark fin soup is regarded as a sign of middle class prosperity: the worldwide movement to ban this casually cruel, wasteful practice (sharks are de-finned by the hundreds, left to bleed-to-death and drown on the ocean floor) is gaining momentum even in Hong Kong... http://www.elephantjournal.com/2011/11/shark-populations-have-plummeted-by-90-in-recent-decadeswill-be-extinct-in-a-few-years/
VIDEO
DOLPHINS TAKE THE BAIT FROM DRUMLINE ON AUSTRALIA'S GOLD COAST http://www.youtube.com/watch?v=yQtPnaWUPMA
9 News Australia, January 26, 2014
-▶ ANGER AS FIRST SHARK CULL KILL IN WESTERN AUSTRALIAN WATERS http://news.ninemsn.com.au/national/2014/01/26/13/21/anger-as-1st-shark-killed-in-wa-waters
Take Part
-▶ EIGHT INCREDIBLE SHARKS THAT ARE IN BIG TROUBLE BECAUSE OF US http://www.takepart.com/photos/shark-week-2013-threatened-sharks
VIDEO
SkyNews: December 26, 2013
-▶ AUSTRALIA: SHARKS USE TWITTER TO WARN SWIMMERS - INSTEAD OF KILLING THEM http://news.sky.com/story/1187066/australia-sharks-use-twitter-to-warn-swimmers
WATCH
THE SHARK SONG
Treat yourself to a few moments of Sumi's 'The Shark Song' -- it is very powerful and touching... http://www.youtube.com/watch?v=BDPwEFw-V9U
-▶ 100 MILLION SLAUGHTERED A YEAR, JUST FOR THEIR FINS. SHARK POPULATIONS PLUMMET BY 90%...COULD BE EXTINCT IN NEAR FUTURE http://sco.lt/6lqeED


THE LOSS OF OCEAN SPECIES IS STAGGERING
http://sco.lt/61gcWf
-▶ A DISASTER: LOSS OF TWO THIRDS OF TOP PREDATORS CAUSING GLOBAL ECOSYSTEMS TO COLLAPSE http://sco.lt/7XHisr
▶ IF YOU'VE EVER QUESTIONED THE EMOTIONAL CAPACITY OF ANIMALS, WATCH THIS http://sco.lt/8Nnhjd