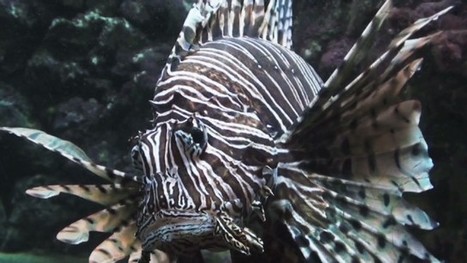 VIDEO
CNN October 19, 2013
LIONFISH INFESTATION IN ATLANTIC OCEAN: AN UNSTOPPABLE EPIDEMIC - CAN WIPE OUT CORAL REEFS The Atlantic Ocean is picturesque and the fish are vividly amazing. But a serious problem lurks: the lionfish. Katie Linendoll reports special for CNN...
The venomous, fast reproducing fish are aggressive eaters and will consume anything and everything, gorging so much they are actually getting liver disease. With no known predators -- except human beings -- they can wipe out 90% of a reef. "The lionfish invasion is probably the worst environmental disaster the Atlantic will ever face,"... http://www.cnn.com/2013/10/18/tech/innovation/lionfish-infestation-atlantic-linendoll/
National Geographic, February 24, 2015
-▶ FIGHTING ONE OF THE MOST DESTRUCTIVE INVASIVE SPECIES IN THE WESTERN HEMISPHERE -- THE LIONFISH Originally from the Indo-Pacific, lionfish are one of the most destructive invasive species in the Western Hemisphere (mark National Invasive Species Awareness Week). As voracious predators and prolific breeders (one female can produce over two million eggs per year), lionfish are wreaking havoc throughout the Western Atlantic, Caribbean, and Gulf of Mexico. http://voices.nationalgeographic.com/2015/02/24/fighting-back-lionfish-during-invasive-species-awareness-week/


VIDEO
USA Today, February 16, 2015
LIONFISH: YOU HAVE TO EAT THEM TO BEAT THEM. Worried about the devastating impact of lionfish on commercial fisheries and coral reef health, a growing movement of conservationists, scuba divers and chefs are trying to persuade Americans to eat their way out of this environmental disaster. http://www.usatoday.com/story/money/business/2015/02/16/fight-against-lionfish/23504661/
VIDEO
Deutsche Welle March 25, 2014
FROM REEF TO PLATE: BELIZE COMBATS THE LIONFISH THREATENING SECOND-LARGEST CORAL BARRIER REEF
http://www.dw.de/from-reef-to-plate-belize-combats-the-lionfish/a-17518501
VIDEO:
OVERFISHING UNLEASHES A SCOURGE OF SEA URCHINS ON REEFS http://sco.lt/7j87mb
THE END OF CORAL REEFS?
AROUND FOR 10 MILLION YEARS, WIPED OUT IN 100
VIDEO
-▶ HOW THE CORAL REEF WILDLIFE TRADE IS DEGRADING CORAL REEFS http://www.scoop.it/t/our-oceans-need-us/p/2452598153/how-the-coral-reef-wildlife-trade-is-degrading-coral-reefs
-▶ "CORAL REEFS: UNDERWATER PHARMACIES" http://sco.lt/733VaL
VIDEO
November 6, 2013
-▶ 3-D PRINTING OCEAN REEF MIGHT SAVE ECOSYSTEMS (NO, REALLY) http://www.care2.com/greenliving/3-d-printing-ocean-reefs-might-save-ecosystems-no-really.html
-▶ AUSTRALIA'S GREAT BARRIER REEF WE STAND TO LOSE - IN BEAUTIFUL PICTURES http://sco.lt/6q4ykD
-▶ MOTION IN THE OCEAN: THE PULSE OF THE CORAL OCEANS http://sco.lt/8oi22z
Water World, October 29m 2013
-▶ NATURAL CORAL CHEMICALS PROTECT AGAINST WARMING OCEANS http://www.terradaily.com/reports/Coral_chemicals_protect_against_warming_oceans_999.html
-▶ OUR OCEANS ARE DYING: MASS EXTINCTION MAY BE INEVITABLE http://sco.lt/7dy5iL
-▶ WRECKING THE OCEAN ECOSYSTEM: OVERFISHING, COLLAPSING FISHERIES, OCEAN DEPENDENT SPECIES STARVING http://sco.lt/89htxZ