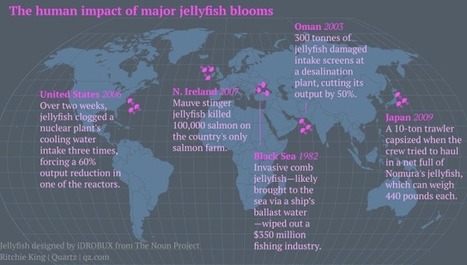 October 15, 2013
-▶ THE HUMAN IMPACT OF MAJOR JELLYFISH BLOOM
Sweden's Oskarshamn nuclear power plant, which supplies 10% of the country's energy, had to shut down one of its three reactors after a jellyfish invasion clogged the piping of its cooling system. The invader, a creature called a moon jellyfish, is 95% water and has no brain. Not what you might call menacing if you only had to deal with one or two. ...
Research of 45 major marine ecosystems shows that 62% saw an uptick in blooms (pdf) since 1950. In those areas, surging jellyfish numbers have caused power plant outages, destroyed fisheries and cluttered the beaches of holiday destinations.
The proliferation of jellyfish appears to be related to humans' impact on the oceans. The toll we take on the seas may augur a new world order of jellyfish disasters, which, in turn, could devastate the global economy. .. http://qz.com/133251/jellyfish-are-taking-over-the-seas-and-it-might-be-too-late-to-stop-them/
Oceana, July 24, 2014
-▶ PHOTOS: A LOOK AT SOME OF THE OCEAN'S MOST BEAUTIFUL TENTACLES http://oceana.org/en/blog/2014/07/photos-a-look-at-some-of-the-ocean-s-most-beautiful-tentacles
TerraDaily, March 19, 2013
-▶ OVERFISHING OF SMALL SPECIES CAUSES JELLYFISH CURSE http://www.terradaily.com/reports/Overfishing_of_small_species_causes_jellyfish_curse_999.html
-▶ VIDEO: FORAGE FISH KEY TO A HEALTHY OCEAN FOOD WEB: GOING, GOING..http://sco.lt/54Pqnh
PHOTO GALLERY:
THE JELLIFICATION OF THE SEAS http://sco.lt/5tUwa1
Guardian Environment, August 21, 2014
-▶ SPECTACULAR IMAGES OF JELLY FISH IN THE NORTH ATLANTIC
http://www.theguardian.com/environment/gallery/2013/aug/21/jellyfish-north-atlantic-in-pictures
ABC Science, Jnuary 15, 2013
-▶ THE "OMITHOPTER" JELLYFISH-INSPIRED FLYING MACHINE KEEPS UPRIGHT. Scientists have built the first ever flying machine that is capable of stable hovering simply by flapping its wings, using a movement similar to that of a swimming jellyfish. The new form of "ornithopter" is reported in Journal of the Royal Society Interface http://www.abc.net.au/science/articles/2014/01/15/3925459.htm
Grist, October 16, 2013
-▶ DRAMATIC CHARTS REVEAL CLIMATE CHANGE'S EFFECTS ON OCEANS
Climate change is scrambling the oceans. It's raising water temperatures, lowering pH levels, reducing oxygen availability, and driving down the size of wildlife populations the oceans can sustain.
http://grist.org/news/dramatic-charts-reveal-climate-changes-effects-on-oceans/
-▶ OUR OCEANS ARE DYING: RAPIDLY SPIRALING DOWNWARD: MASS EXTINCTION MAY BE INEVITABLE http://sco.lt/8CFwcT
OCEAN ACIDIFYING: RAPIDLY RIING CO2 IN ATMOSPHERE CAUSING POTENTIAL CATASTROPHE http://sco.lt/8WLvHd
-▶ "WE HAVE FIVE MINUTES BEFORE MIDNIGHT" - UN CHIEF SCIENTIST URGES ACTION ON CLIMATE CHANGE http://sco.lt/6heNd3