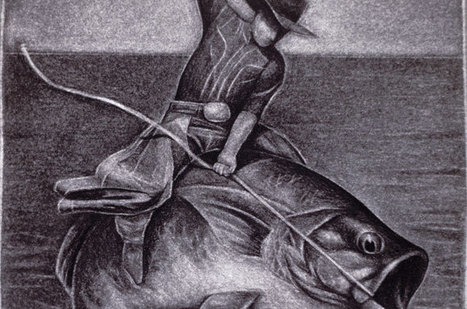 CAN WE DOMESTICATE WILD FISH -- AND SHOULD WE?'
Conservation Magazine, University of Washington -
▶ TAMING THE BLUE FRONTIER
http://conservationmagazine.org/2009/04/taming-the-blue-frontier/
Ten thousand years ago, humans made the shift on land from hunting and gathering to farming. Now the same transformation is taking place at sea....
Many of today's coastal fish farms have decimated habitat and spread disease into local fish populations. Making matters worse, fish farms represent a net drain on populations of wild fish, which are often caught just so they can be ground into feed for salmon and other species.
Despite these concerns, a shift is underway. Some members of the environmental community are concluding that widespread aquaculture must be pursued if we are to save the oceans and feed the planet. Aquaculture production must double by 2050 just to keep up with per capita demand. But merely scaling up current methods would only exacerbate the problems.
In other words, the world needs new, sustainable aquaculture practices, and it needs them fast. It took 10,000 years for domestic agriculture to transform the land, but viable ocean farming schemes must be developed in one one-hundredth of that time if they are to forestall the oceans' demise. This urgency is spurring some leading environmentalists and scientists to lend their knowledge and support, instead of their opposition. In a recent lecture, the renowned marine ecologist Jeremy Jackson discussed the threat of overfishing and announced, "the most important scientific challenge we now face is how to make aquaculture ecologically sustainable."... http://conservationmagazine.org/2009/04/taming-the-blue-frontier/
The Scotsman, April 20, 2014
SALMON FARM 'KILLING OFF WILD STOCK' "...since 1989 (we have known) that the collapse of sea trout populations in West Highland Scotland was being driven by the large numbers of sea lice associated with the cage rearing of salmon. "It is a problem which continues to get worse and also greatly depletes salmon populations in fjordic systems.
"Efforts to reduce sea louse numbers to levels which do not threaten the wild fish have failed dismally, despite the large-scale use of dangerous chemicals which ultimately threaten the valuable lobster, prawn and crab fisheries of the Highlands and Islands.
"Add to this assault on sea trout and salmon populations the effects of bacterial and virus disease and the widely reported problem of genetic introgression. Healthy wild sea trout and salmon populations cannot exist in the presence of the cage-reared salmon." http://www.scotsman.com/news/scotland/top-stories/salmon-farms-killing-off-wild-stock-1-3382113
Guardian, February 15, 2014
▶ FISH FARMS ARE DESTROYING WILD SCOTTISH SALMON.
An editorial in the current issue of Country Life warns of the disastrous effects of intensive farming to meet an insatiable demand from China: "As the pesticides used by aquaculture to battle the sea lice grow ever stronger, wild salmon are exposed to infestations as their migratory routes take them through sea lochs bursting with farmed fish. Setting up more of these highly-intensive farms is looking increasingly unsustainable, as both wild and farmed fish will suffer." http://www.theguardian.com/uk-news/2014/feb/16/fish-farms-wild-scottish-salmon
▶ SCOTTISH FISH FARMERS USE RECORD AMOUNTS OF PESTICIDES, DESTROYING MARINE ECOSYSTEMS http://sco.lt/4i52I5
Earth Policy Institute, March 27, 2014
▶ FISHERIES AND AQUACULTURE FACT SHEET http://www.earth-policy.org/press_room/C68/fisheries_and_aquaculture_fact_sheet
Summit Voice, March 11, 2014
▶ DO FARMED SALMON THREATEN WILD POPULATIONS? http://summitcountyvoice.com/2014/03/11/do-farmed-salmon-threaten-wild-populations/
▶ 300,000 "SUSTAINABLE" GENETICALLY ENGINEERED RUNAWAY SALMON STIR CONSERVATION WORRIES http://green.blogs.nytimes.com/2012/01/25/runaway-salmon-stir-conservation-worries/
World Fishing & Aquaculture, January 14, 2014-
▶ NEW TEST FOR SALMON DNA TRACING FOR ESCAPED FARMED SALMON : Farmed salmon can now be more efficiently tested to trace where they have come from http://www.worldfishing.net/news101/industry-news/new-test-for-salmon-dna-tracing
Treehugger, December 30, 2013
-▶ USA FRANKENFISH SWIMS PAST ANOTHER REGULATORY HURDLE http://www.treehugger.com/green-food/frankenfish-swims-past-another-regulatory-hurdle.html
VIDEO REPORT
DW.DE April 11, 2013
▶ AQUACULTURE IN CANADA - THE PROBLEM WITH FARMED SALMON - Aquaculture-grown fish and seafood is becoming increasingly common. Worldwide, more fish than cattle are farmed. But the booming fish industry is causing environmental problems. Medications, pesticides and parasites are escaping from open-water farms and contaminating the ecosystem... http://www.dw.de/aquaculture-in-canada-the-problem-with-farmed-salmon/av-17200460
▶ GENE-SPLICED GMO SALMON, COMING SOON TO A PLATE NEAR YOU http://sco.lt/6z3E1J
▶ IS GENETICALLY ENGINEERED SALMON SAFE AND ETHICAL? CORPORATIONS 'CREATING AND OWNING/ LIFE http://sco.lt/8UFZVx
▶ WE MAY BE THE LAST GENERATION TO CATCH FOOD FROM THE OCEANS http://sco.lt/8uHn7Z
▶ FARM-RAISED TUNA MAY NOT BE THE ANSWER TO OVERFISHING - TOO LARGE TO RAISE IN CRAMPED FACTORY-FARMED CAGES http://sco.lt/8MPWYz
INDIEGOGO
▶ CANADA'S GMO SALMON GOES ON TRIAL - VIDEO http://www.indiegogo.com/projects/canada-s-gmo-salmon-goes-on-trial
Fox New, March 11, 2014
▶ GMO SALMON MAY SOON HIT THE FOOD STORES, BUT WILL ANYONE BUY IT? http://www.foxnews.com/leisure/2014/03/11/gmo-salmon-may-soon-hit-food-stores-but-will-anyone-buy-it/
World Fishing & Aquaculture, March 10, 2014
▶ RESEARCHERS LOOK AT STERILIZATION OF FARMED FISH TO AVOID CONTAMINATING WILD FISH. Researchers at the UK's University of East Anglia (UEA) believe farmed salmon should be sterilised to avoid breeding with wild fish. http://www.worldfishing.net/news101/industry-news/researchers-look-at-wild-fish-reproduction
Grist, June 18, 2012
▶ SICK FARMED FISH:
ANOTHER VIRUS CRASHES CANADA'S SALMON FARMS http://grist.org/food/sea-sick-another-virus-crashes-canadas-salmon-farms/
WATCH
FACTORY FARMED FISH
▶ THE MASSIVE POLLUTION AND CONDITION UNDER A FISH FARM IN NORWAY : Lerøy west (English subtitle) - YouTube http://www.youtube.com/watch?v=nAIShIjPbIE
Jan 24, 2013 NYTimes.com
-▶ NOWHERE TO SWIM: MILESTONE LOOMS FOR CORPORATE FACTORY "FARMED"-RAISED FISH http://www.scoop.it/t/our-oceans-need-us/p/3995526608/milestone-looms-for-corporate-factory-farmed-raised-fish-more-bigger-faster-profits-that-is
▶ IS 'SUSTAINABLE' SEAFOOD A FANTASY KILLING OUR OCEANS: AQUAFARMING vs WILD FISH http://sco.lt/8G8MZF
▶ THE FARMING TECHNIQUE THAT COULD REVOLUTIONIZE THE WAY WE EAT http://sco.lt/7YO4vZ
EMagazine.com, May 1, 2013
▶ FREE RANGE FISH: THE ENVIRONMENTAL PROMISE OF OPEN OCEAN FISH FARMS? open ocean fish farms may be the solution to a whole range of environmental problems. Not the crowded, close-to-shore pens where fish are trapped like caged chickens, requiring doses of antibiotics which leak, along with the concentrated wastes, into surrounding water. But submersible net pens, more than 150 feet apart, where ocean currents disperse waste, and fish swim and live in the closest possible approximation to their natural habitat. Free-range fish. - See more at: http://www.emagazine.com/magazine/free-range-fish/
VIDEO
THE FUTURE OF AQUACULTURE
http://www.youtube.com/watch?v=PtCLJilA6fk
▶ IS GENETICALLY ENGINEERED SALMON SAFE AND ETHICAL? CORPORATIONS CREATING LIFE http://sco.lt/6ZRUpN
▶ "FATALLY FLAWED" FDA ASSESSMENT TO UNLEASH GENETICALLY ENGINEERED SALMON ONTO YOUR DINNER PLATE, NO REGULATIONS, NO OVERSIGHT, NO LABELING http://sco.lt/8ZDraz
▶ MAJOR U.S. FOOD RETAILERS TO SHUN GENETICALLY MODIFIED, FACTORY FARMED, ENSLAVED SEAFOOD http://sco.lt/6HqYt7
Organic Authority, April 11, 2012
▶ FROM LAWN TO FISHING LINE: PESTICIDES POISONING WEST COAST SALMON http://www.organicauthority.com/blog/organic/from-lawn-to-line-home-pesticides-poisoning-west-coast-salmon/
▶ SEAFOOD SURPRISE. WAIT...WHAT AM I EATING? http://sco.lt/4ix4jp
Sustainable Brands, February 21, 2014
▶ SUSTAINABLE SEAFOOD? ONE FISH, TWO FISH, RED FISH, GREEN FISH http://www.sustainablebrands.com/news_and_views/supply_chain/cheryl_baldwin/sustainable_seafood_one_fish_two_fish_red_fish_green_fish
-------------------------------------------------------------
AQUAFARMS - GOOGLE IMAGES
IT'S MUCH MORE PROFITABLE, AND EASIER TO CONTROL FISH PRODUCTION CONFINED IN SMALL CONTAINERS. FISH STAY HEALTHY BY PARTICIPATING IN OPEN, HEALTHY OCEAN ECOSYSTEMS. WHEN CONFINED, MORE USE OF ANTIBIOTICS AND PESTICIDES ARE NEEDED TO CONTROL LICE AND DISEASE PUTTING QUANTITY OVER QUALITY AND THAT PRESENTS A HIGHLY LIKELY-HOOD OF DEVASTATION TO BOTH OCEAN AND HUMAN HEALTH....AS IN ALL CONFINED ANIMAL FACTORY FARMING....
▶ WHY EVERYONE SHOULD BE ANGRY ABOUT CORPORATE FACTORY FARMING http://sco.lt/7kUpVp
------------------------------------------------------------
VIDEO
-▶ FARMED SALMON EXPOSED: THE WORST FISH YOU CAN EAT - VIDEO http://articles.mercola.com/sites/articles/archive/2010/11/30/farmed-salmon-exposed.aspx
IS 'SUSTAINABLE' SEAFOOD A FANTASY?
AQUAFARMING vs WILDFISH - STOP OVERFISHING
▶ THE END OF THE LINE - THE FUTURE OF NATURALLY GROWN FISH http://sco.lt/8bXInZ
August 17, 2012 The Fish Site
▶ NIGERIA: N1.17 BILLION INVESTED ON BAYELSA AQUACULTURE FARMS http://www.thefishsite.com/fishnews/21030/n117-billion-invested-on-bayelsa-aquaculture-farms
QUESTScience, February 13, 2014
ARE VEGETARIAN FISH THE KEY TO SUSTAINABLE FISH FARMING?
http://science.kqed.org/quest/2014/02/13/vegetarian-farmed-fish-may-be-key-to-sustainable-aquaculture/
INFOGRAPHIC: FARMED FISH DIETS
http://science.kqed.org/quest/2014/02/13/infographic-can-farmed-fish-go-vegetarian/
Food and Agriculture Organization (FAO) February 05, 2014
▶ FISH FARMS TO PRODUCE NEARLY TWO THIRDS OF GLOBAL FOOD FISH SUPPLY BY 2030 http://www.fao.org/news/story/en/item/213522/icode/
Treehugger, December 30, 2013
-▶ FRANKENFISH SWIMS PAST ANOTHER REGULATORY HURDLE http://www.treehugger.com/green-food/frankenfish-swims-past-another-regulatory-hurdle.html
HuffPost British Columbia, December 24, 2013
-▶ GAGGED BY INDUSTRY: AQUACULTURE IN BRITISH COLUMBIA: ACTIVIST TAKES FLIGHT TO SCOTLAND http://www.huffingtonpost.ca/2013/12/24/aquaculture-bc-don-staniford_n_4496719.html
-▶ MUZZLED BY THE COURTS: http://www.huffingtonpost.ca/2013/12/24/bc-fish-farm-foe-takes-_n_4498216.htm
UNESCO, February 22, 2012
-▶ MARINE SCIENTIST ALARMED ABOUT INCREASING THREAT TO OCEAN ECOSYSTEMS. In the last 30 years, coastal resources such as mangroves, coral reefs and fishery resources have become depleted on a large scale. For example, more than 60 per cent of Asia's mangroves have already been converted to aquaculture farms (ESCAP and ADB, 2000). The region is losing its resource bases to support people's livelihoods and sustain future economic development. http://www.unescobkk.org/news/article/marine-scientists-alarmed-about-increasing-threats-to-ocean-ecosystems/
VIDEO
EMPTYING OUR OCEANS
▶ THE WORLD'S LARGEST FACTORY FISHING TRAWLER https://www.youtube.com/watch?v=BCb2TT5GW7k
VIDEO:
▶ "SEA CHANGE - THE LOSS OF OCEAN SPECIES IS STAGGERING http://sco.lt/51LeCn
▶ WRECKING THE OCEAN ECOSYSTEM: OVERFISHING, COLLAPSING FISHERIES, OCEAN DEPENDENT SPECIES STARVING - WHAT ARE WE DOING? http://sco.lt/84rBVx