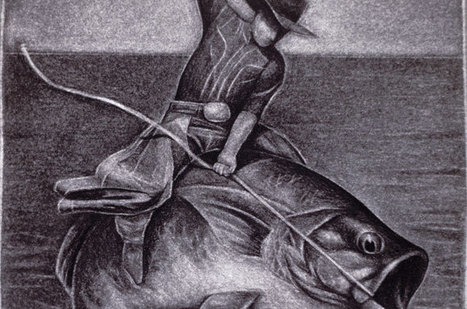 University of Washington - Conservation
Ten thousand years ago, humans made the shift on land from hunting and gathering to farming. Now the same transformation is taking place at sea....
Many of today's coastal fish farms have decimated habitat and spread disease into local fish populations. Making matters worse, fish farms represent a net drain on populations of wild fish, which are often caught just so they can be ground into feed for salmon and other species.
Despite these concerns, a shift is underway. Some members of the environmental community are concluding that widespread aquaculture must be pursued if we are to save the oceans and feed the planet. Aquaculture production must double by 2050 just to keep up with per capita demand. But merely scaling up current methods would only exacerbate the problems.
In other words, the world needs new, sustainable aquaculture practices, and it needs them fast. It took 10,000 years for domestic agriculture to transform the land, but viable ocean farming schemes must be developed in one one-hundredth of that time if they are to forestall the oceans' demise. This urgency is spurring some leading environmentalists and scientists to lend their knowledge and support, instead of their opposition. In a recent lecture, the renowned marine ecologist Jeremy Jackson discussed the threat of overfishing and announced, "the most important scientific challenge we now face is how to make aquaculture ecologically sustainable."... http://conservationmagazine.org/2009/04/taming-the-blue-frontier/
WATCH
FACTORY FARMED FISH
VIDEO:
******THE MASSIVE POLLUTION AND CONDITION UNDER A FISH FARM IN NORWAY : Lerøy west (English subtitle) - YouTube http://www.youtube.com/watch?v=nAIShIjPbIE
IS 'SUSTAINABLE' SEAFOOD A FANTASY? AQUAFARMING vs WILDFISH - STOP OVERFISHING http://sco.lt/5ZTLhR
AQUAFARMS - GOOGLE IMAGES http://ow.ly/noUoA
WE MAY BE THE LAST GENERATION TO CATCH FOOD FROM THE OCEANS http://sco.lt/8uHn7Z
SCOTTISH FISH FARMERS USE RECORD AMOUNTS OF PESTICIDES, DESTROYING MARINE ECOSYSTEMS http://sco.lt/4i52I5
SEAFOOD SURPRISE. WAIT...WHAT AM I EATING? http://sco.lt/4ix4jp
THE FUTURE OF AQUACULTURE - YOU TUBE http://www.youtube.com/watch?v=PtCLJilA6fk
FARM-RAISED TUNA MAY NOT BE THE ANSWER TO OVERFISHING - TOO LARGE TO RAISE IN FACTORY-FARMED CAGES http://sco.lt/8MPWYz
August 17, 2012 The Fish Site
NIGERIA: N1.17 BILLION INVESTED ON BAYELSA AQUACULTURE FARMS http://www.thefishsite.com/fishnews/21030/n117-billion-invested-on-bayelsa-aquaculture-farms
IS GENETICALLY ENGINEERED SALMON SAFE AND ETHICAL? CORPORATIONS CREATING LIFE http://sco.lt/6ZRUpN
"FATALLY FLAWED" FDA ASSESSMENT TO UNLEASE GENETICALLY ENGINEERED SALMON ONTO YOUR DINNER PLATE, NO REGULATIONS, NO OVERSIGHT, NO LABELING http://sco.lt/8ZDraz
MAJOR U.S. FOOD RETAILERS TO SHUN GENETICALLY MODIFIED, FACTORY FARMED, ENSLAVED SEAFOOD http://sco.lt/6HqYt7
WRECKING THE OCEAN ECOSYSTEM: OVERFISHING, COLLAPSING FISHERIES, OCEAN DEPENDENT SPECIES STARVING - WHAT ARE WE DOING? http://sco.lt/84rBVx